Haley Bennett Would Like You To Think She Is Playing Catwoman In 'Gotham City Sirens'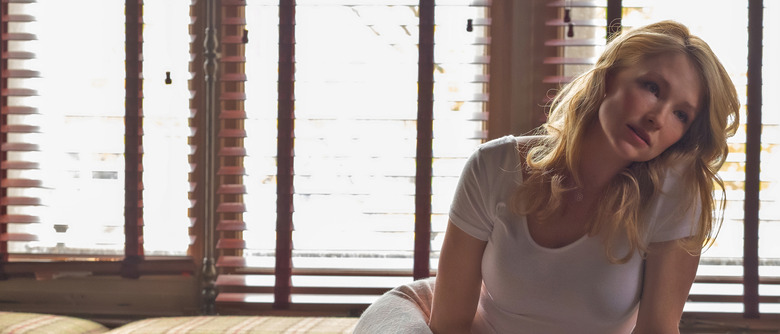 Gather 'round, kids, for the Basically Baseless Speculation Story Hour. Today, we'll be talking about The Girl on the Train star Haley Bennett, who may be up for the role of Catwoman in Gotham City Sirens, if her coy social media posts are any indication. Either that, or she just really wants people to think she's up for the role of Catwoman in Gotham City Sirens, for whatever reason. Let's break down this latest round of speculation after the jump.
Last week, Bennett posted a picture of Catwoman with no caption.
A photo posted by Haley Bennett (@halolorraine) on
The next day, she shared a photo of herself with a brand-new pixie haircut which resembles Selina Kyle's hair from the comics.
This is me now. @garrennewyork
A photo posted by Haley Bennett (@halolorraine) on
And in case fans still weren't getting the hint, she followed up with a sushi photo captioned "Meow."
A photo posted by Haley Bennett (@halolorraine) on
So, what are we to make of all this? Bennett has shared three photos in a row which seem to hint at her getting cast as Catwoman, but all three are also vague enough that she has plausible deniability. Maybe she just really likes DC comic books, and the "meow" is just a reference to her well-documented love of cats, and the short hair is just a coincidence. And even if these posts are a deliberate reference to Catwoman in Gotham City Sirens, we don't know if she's been cast, or if she just really hopes she will be. She wouldn't be the first star to campaign for a role on social media, if that's what this is.
But, okay, let's talk about the possibility of Bennett playing Catwoman. As we've reported previously, Margot Robbie is set to reprise her Suicide Squad role as Harley Quinn for Gotham City Sirens, a supervillain team-up movie centered around DC's top female characters. Director David Ayer has hinted that Poison Ivy and Catwoman would be part of the movie as well. While Megan Fox has been rumored for the part of Poison Ivy, we haven't heard as much about which actress could play Catwoman. One reason to be skeptical of the Haley Bennett Catwoman rumor is that it seems a bit early for the project to start casting, given that it's just in the development stage and doesn't have a release date yet or anything. But it's not unheard of, especially if Warner Bros. is eager to get moving on this one.
At 29, Bennett is in the same age range as Robbie (and Fox, for that matter). She does seem a bit young to serve as a love interest to Ben Affleck's Batman, but then again, this is the same franchise that paired off 26-year-old Margot Robbie and 45-year-old Jared Leto. It's hard to imagine Ayer or DC having any qualms about putting Bennett with 44-year-old Ben Affleck. (I'm not saying the age disparity isn't weird, mind you, just that I doubt they're concerned about it.) Besides, we don't know yet if this version of Catwoman will strike up a romance with the current version of Batman.
More importantly, she's probably at about the right level of success for a part like this. She's on the verge of breaking out, as indicated by the fact that she was everywhere in 2016; you may have seen her in Hardcore Henry, A Kind of Murder, The Magnificent Seven, The Girl on the Train, and/or Rules Don't Apply. At the same time, she hasn't quite achieved household name status yet, and a juicy role in a big superhero blockbuster could be just the thing to kick her career up to the next level.
Do you like the idea of Haley Bennett playing Catwoman, or do you have another star in mind?