Billy Dee Williams Talks Donald Glover And Lando Calrissian; Drops Hints About The 'Han Solo' Spinoff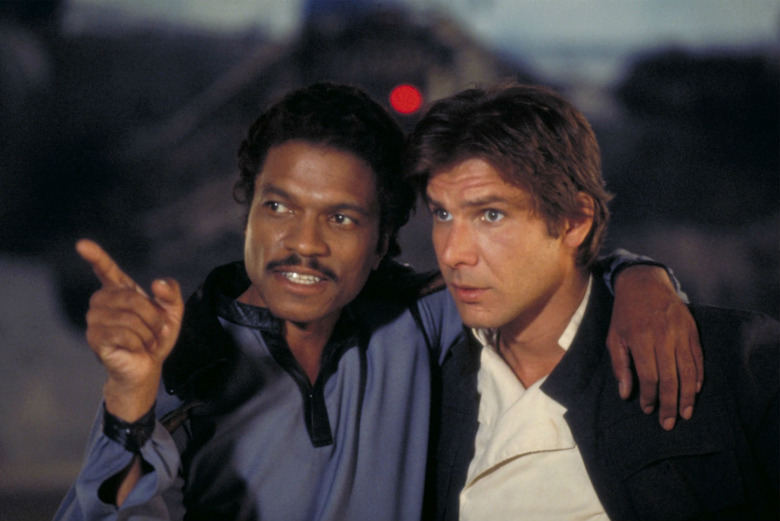 Last week, Billy Dee Williams, the original Lando Calrissian, was "caught" having lunch with Donald Glover, the new Lando Calrissian. Naturally, the snapshot of them together quickly went viral, and got Star Wars fans speculating about what the two might have discussed. Now Williams himself has gone on the record to explain exactly what they talked about. In the process, he addressed the possibility of his appearing in Glover's Han Solo spinoff, and seemingly confirmed some details about the plot of the movie. 
The Hollywood Reporter caught up with Williams to ask about his lunch with Glover. As you'd expect, their conversation revolved around Lando and the new Han Solo movie. Here's Williams' recap of their meeting:
He's a very delightful young man, I must say. We had a very nice lunch and we talked for a very long time and it was very easy. He had questions about [Lando]. I guess he was doing what normal actors do, they just want to find out what direction they want to take so they gather their information. So, we just sat and talked, and I didn't want to impose on anything he wanted to do — he's got his own ideas, I would imagine. I know he has his own ideas. He's a very talented young man. In fact, I was listening to some of his music [Childish Gambino, Glover's musical alter-ego] and it's pretty good stuff.
Before Glover was locked in to play Lando, Williams told press that Star Wars should "leave that character alone." So, has he changed his mind after meeting Glover?
I don't know. To me, I guess what it is that I identify so much with Lando. I mean, Lando has been very much a part of my life for over 30 years. When I go out and do conventions and stuff like that, even though people know me from all the other things that I've done, certainly [Lando] takes precedence. I just never thought of anybody else being Lando. I just see myself as Lando.
Interestingly, Williams suggested he's not quite done with Lando yet. "I'm not saying goodbye to that character. It's still very much a part of my life. I created that character," he said. It's not clear if Williams means that he plans to reprise the role in some future project, or if he simply means that Lando Calrissian will always be important to him. For the record, though, he "wouldn't mind" making a cameo in the Han Solo film. "If they asked me, I wouldn't say no," he said. Honestly, given that the Lucasfilm folks are total sticklers for continuity, I'd think it more likely that Williams could appear as an older version of Lando in Episode VIII or IX. But that's just speculation on my part.
Finally, Williams let slip a little detail about the plot of the movie. "Yeah, this one is about how [Han and Lando] established our relationship and the question of the Millennium Falcon," he said. That comment seems to confirm the long-standing rumors that the Han Solo spinoff will tell the story of how Han got the Millennium Falcon from Lando. However, while the film will dig deeper into Han and Lando's friendship, Williams admits he and the original Han Solo, Harrison Ford, haven't had a chance to catch up recently. "I have not spoken with him — he's too busy."
There's much more from Williams at THR, which also goes into his voice role as Two-Face in The Lego Batman Movie. The Han Solo movie is shooting now for release May 25, 2018.