'Guardians Of The Galaxy Vol. 2' Super Bowl Spot Breakdown: Going Through The Footage Frame By Frame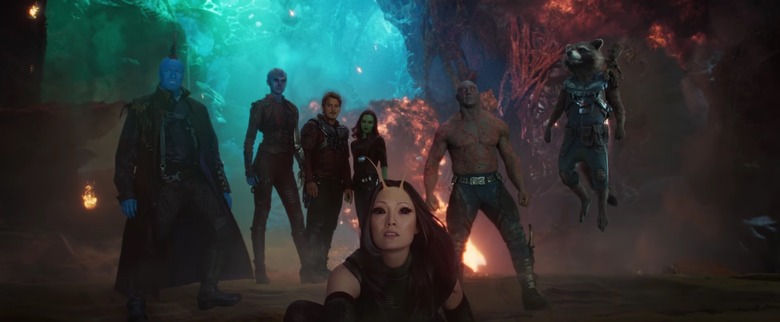 Some of us were cheering for the Falcons last night, and others of us for the Patriots, but the Guardians of the Galaxy emerged as one team we could all root for. Marvel Studios dropped a whole bunch of new footage in a Guardians of the Galaxy Vol. 2 Super Bowl spot, showing all of our favorite ragtag heroes in action — along with new friends like Mantis, and new foes like Ayesha. Click through for our frame-by-frame breakdown of the Guardians of the Galaxy Vol. 2 Super Bowl spot.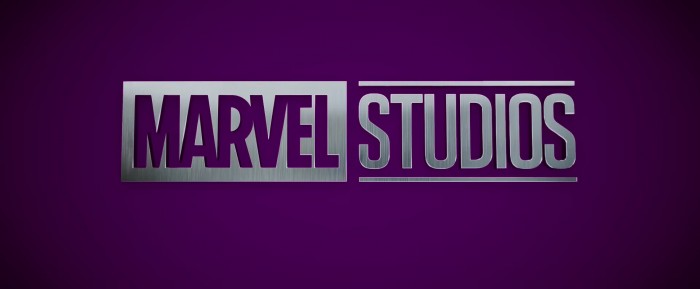 Is this the first time we've seen the Marvel Studios logo rendered in purple instead of their trademark red? In any case, it suits the film. The appeal of the Guardians is that they're a bit weirder and quirkier than your typical Marvel superheroes. So naturally, their Marvel Studios logo is deep purple instead of traditional red.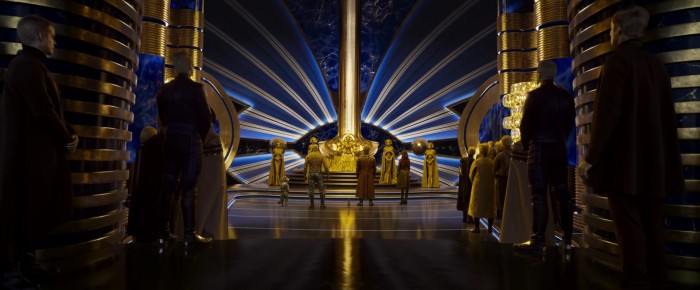 Okay, let's move into the actual footage. The Guardians of the Galaxy Vol. 2 Super Bowl spot gets to the good stuff right away, offering our first peek at the planet Sovereign. This seems to be their seat of power, judging by that impressive gold throne in the center.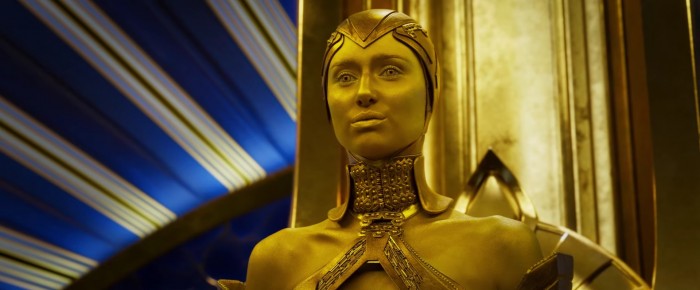 Seated on that throne is Ayesha (Elizabeth Debicki), high priestess of the Sovereign and the new villain for Guardians of the Galaxy Vol. 2. This is our first look at the character, who has previously only been seen in toy form. She's hired the Guardians to deal with an enormous galactic beast known as the Abilisk, which Peter reports is trying to eat the planet's power source. In exchange, they'll release Nebula (Karen Gillan), whom the Guardians want to take back to Zandar.
"It's all going swimmingly until it all turns very very sour," Debicki teased last summer. "Let's just say it goes from amiable to not-so-amiable quite quickly." And that spells big trouble for the Guardians, since, according to director James Gunn, "she, and her entire world, are extraordinarily deadly."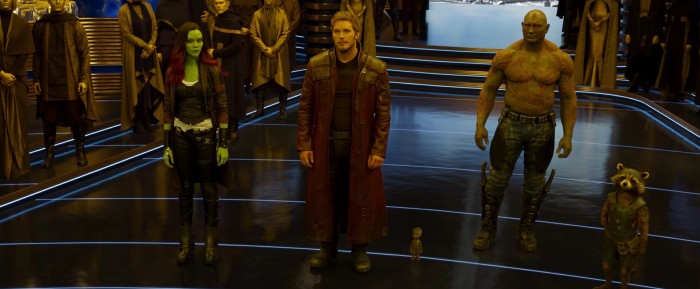 The Sovereign are very powerful, very proud, and very easily offended, and quick to punish anyone who insults them. Which it looks like the Guardians have already done. "Just who in the hell do you think you are?" Ayesha demands.
As Peter learned on the Guardians set visit last year, the trouble arises when Rocket decides to steal some of the Sovereigns' batteries during their mission. When the Sovereigns find out, they're outraged at this grave offense against their people, and set out to chase down the Guardians.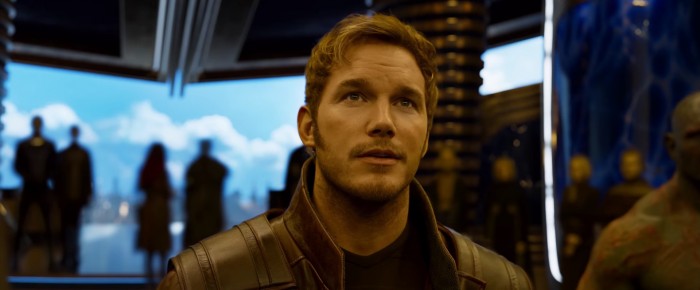 Star-Lord's response to Ayesha's very angry question: "Well..."
We're treated to a brief montage of the Guardians in action, including Drax (Dave Bautista) and Rocket (Bradley Cooper). Gamora (Zoe Saldana) demonstrates some A+ side-eye, suggesting that her role on the team is still to be the one that disapproves of basically everything.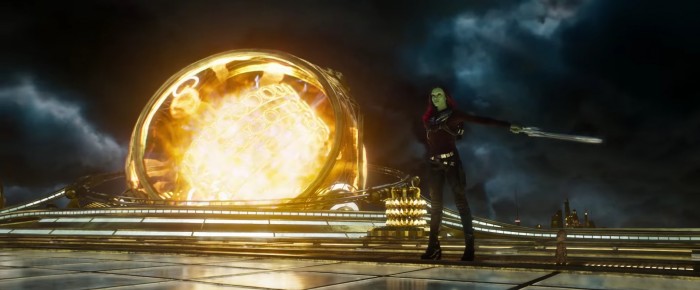 There's that weird high-tech portal we saw in the last trailer, and Gamora looking ready for a fight.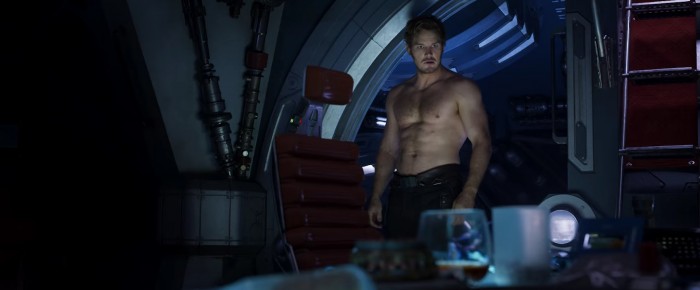 And here's the obligatory Marvel superhero shirtless scene. You're welcome, Chris Pratt fans.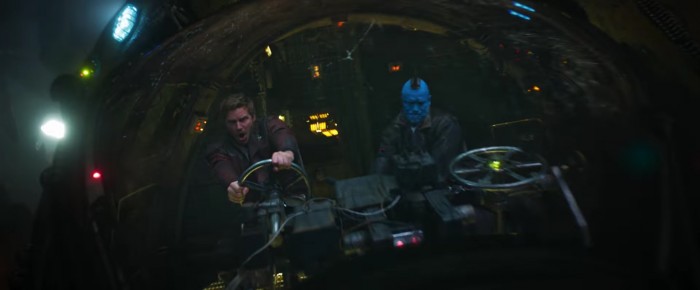 Gunn has indicated that Yondu (Michael Rooker) will play a bigger role in Vol. 2, and that certainly seems to be the case based on the trailer footage. Star-Lord and his foster dad have a contentious relationship, as we saw in the first movie, but it looks like they'll be more closely allied in the sequel. Here, they seem to be fighting side-by-side in some kind of big explosive space battle.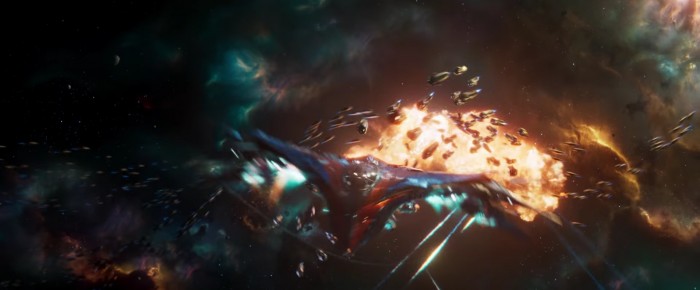 They make a narrow escape in Star-Lord's ship, the orange-and-blue Milano.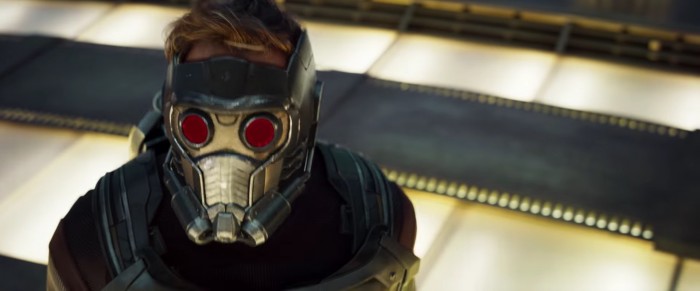 Now the Guardians of the Galaxy Vol. 2 Super Bowl spot runs through individual introductions for each of the characters, all set to the strains of Fleetwood Mac's "The Chain." (It's the same song that played over the Comic-Con clips last summer.) Much of this is footage we've already seen before, but what the heck, let's go over it again. Here's Star-Lord.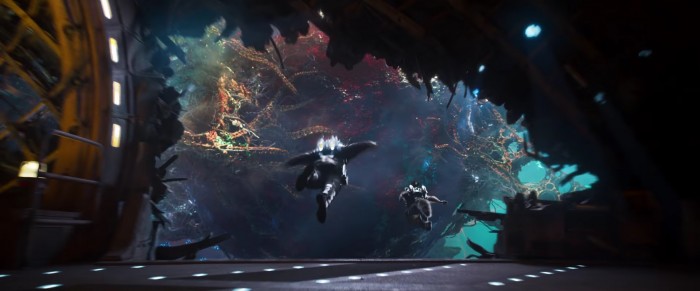 We get to see him making a dramatic leap. Don't worry, he has a jetpack strapped to his back.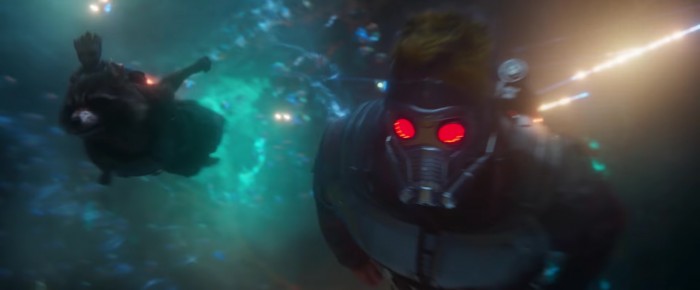 Flying with him are Rocket and everyone's favorite tiny sentient tree, Baby Groot (voiced by Vin Diesel).
Next up is Gamora with the side-eye again. This seems to be from the forest scene we've seen teased in the other Vol. 2 promos.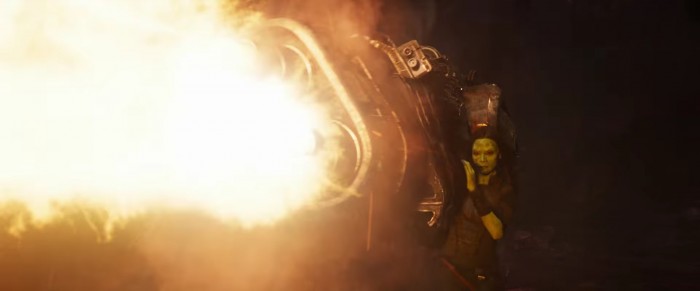 Gamora may be really good at glaring at people, but that's not all she does. Here she wields a giant freakin' machine gun and screams a lot, presumably while mowing down a whole bunch of enemies.
Drax is his usual badass self. The shot of him leaping toward the Abilisk is not a new one, but it still looks so damn cool.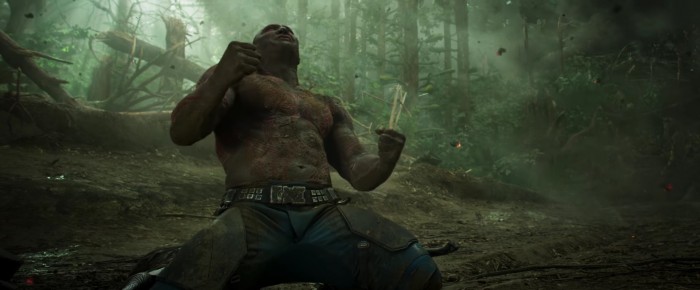 "That was awesome!!" Drax might be the biggest Guardians fan of all, you guys. Although it's worth pointing out that the last time we saw this shot, Drax was screaming, "Screw you, spaceship!" So which is it?
Another bit we've seen before: Rocket detonating a bomb to take out some Ravagers. This looks like it's part of the same forest setpiece we mentioned above.
And here's Yondu taking out some Ravagers, with an assist from Rocket and Baby Groot. You'll notice he's wearing what looks like a red plastic mohawk. It's actually a prototype fin that lets him control a glowing red arrow. You can see that arrow doing a ton of damage behind him — it's taking out Ravagers left and right while he, Rocket, and Baby Groot casually saunter down the catwalk.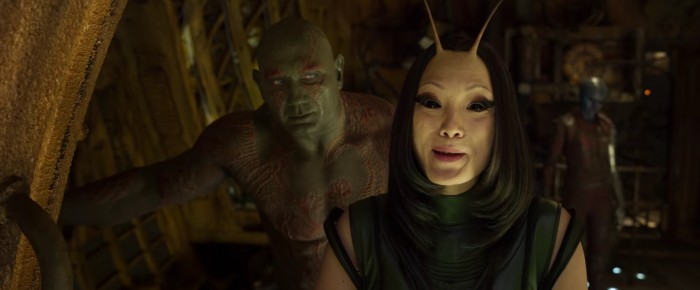 Say hi to Mantis (Pom Klementieff), one of the new additions to Guardians of the Galaxy Vol. 2. She reportedly becomes very good friends with Drax, maybe because they're similarly awkward people. According to Kevin Feige, Mantis "makes Drax look like the most world-savvy person there is, and it's a tough thing to do and to be endearing, and [Klementieff is] pretty amazing at it." Although she's the right-hand woman to Ego (Kurt Russell), she hasn't actually spent much time with other humanoids before.
Speaking of which, where the hell is Ego? When will we get to see him? He's not in this TV spot, so maybe they're saving him for the next full-length trailer?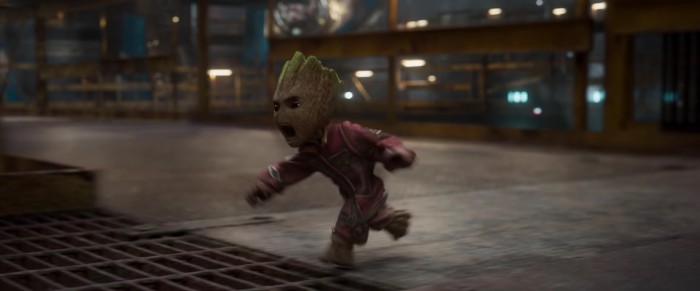 Mantis may be kind of an odd duck, but there's one way in which she is totally and utterly relatable: she's as taken with Baby Groot as we are. "He's so cute!" she coos.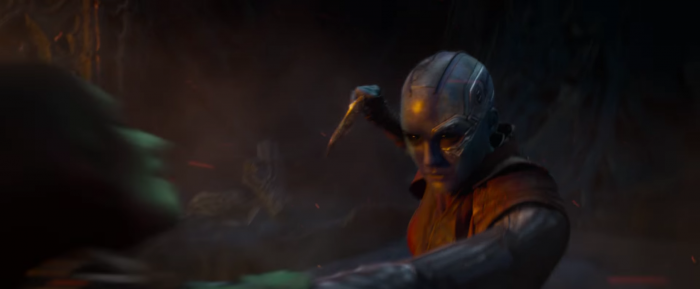 Here's Nebula fighting... someone. The moment goes by too quickly to say for sure, but that green skin looks like Gamora. Later shots show Nebula fighting alongside the Guardians, so maybe this part is from early on. If I had to guess, I'd say this is the scene where the Guardians show up to take Nebula from the Sovereign. She's probably none too thrilled to see them, after what went down in the last movie.
Is that a new ship for Nebula?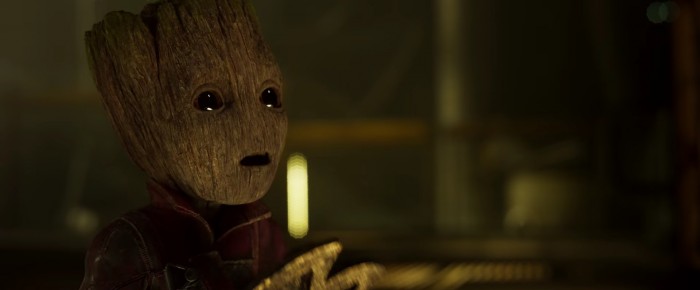 And now, the real star of this show: Baby Groot!
As usual, all Groot can say is "I am Groot," and it's left up to Rocket to translate. In this case, he shouts something at Yondu, which Rocket helpfully interprets for him: "He says, welcome to the frickin' Guardians of the Galaxy." He adds, "Only he didn't use "frickin'." I'll never not be amused by the way PG-13 movies try to work around the guidelines for foul language.
So, yes. It looks like this is the movie where Yondu will go from being a reluctant ally to the Guardians of the Galaxy, to a full-fledged member.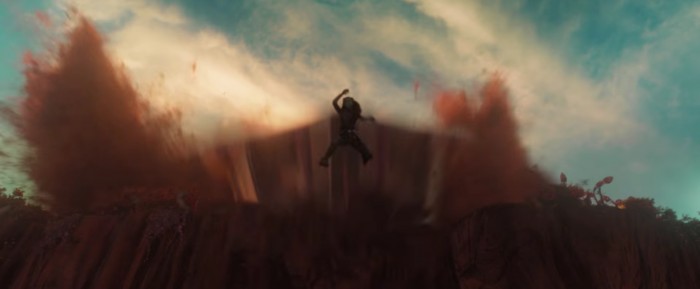 A quick-cut montage shows what being a member of the Guardians of the Galaxy entails. Here's Gamora making a death-defying leap.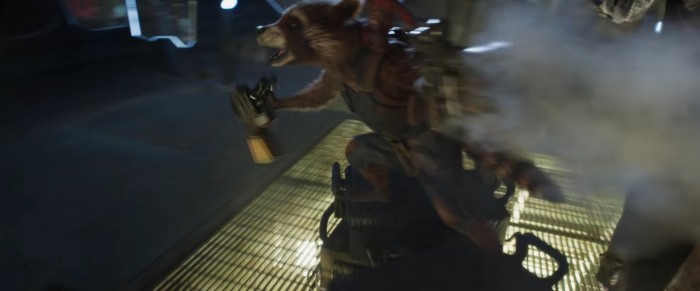 Here are Rocket and Groot unleashing hell, probably on some Ravagers.
I'd like to take a moment to thank Guardians of the Galaxy for continuing to be the most colorful sub-franchise within the Marvel Cinematic Universe. It's not that Captain America or Iron Man are drab — and certainly none of the Marvel movies are as washed-out as the DCEU movies — but the colors in the Guardians movies are on a whole other level. They stray from the usual primary-color palette to incorporates deep purples and bright pinks alongside the usual blues and reds, and they have no qualms about cramming in an entire rainbow's worth of hues in a single shot. These choices give the Guardians films a distinct look, and adds to the overall feeling of fun.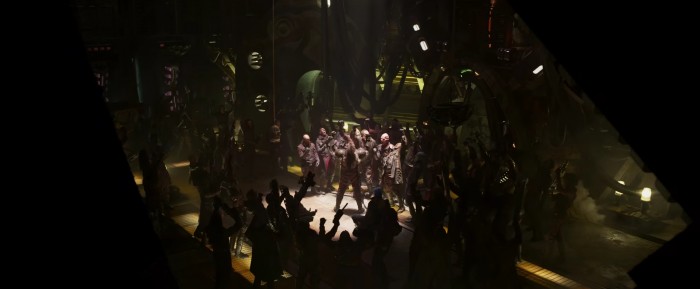 Okay, now seems like as good a time as any to talk about the Ravagers, and what they're doing in this film. As Peter learned, the Ravagers are hired by Ayesha to help hunt down the Guardians. Yondu tries to convince the Ravagers to turn her down, pointing out that by siding against the Guardians, they're risking the ire of the Nova Corps. But the Ravagers are skeptical of their leader. Some of them think he's too soft on Peter Quill, and a schism starts to form.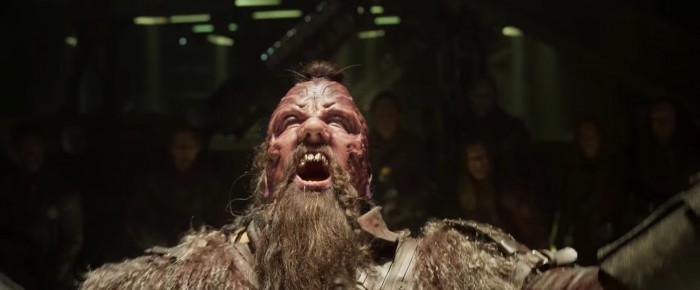 Enter Taserface (Chris Sullivan), a Ravager who leads a mutiny against Yondu. This sets in motion that setpiece we saw above, with the bodies of Ravagers falling all around Yondu, Rocket, and Groot. The three of them are taken captive during the mutiny and must team up to make their escape. I guess it's not a spoiler to reveal that they succeed. Presuambly, this means a permanent break for Yondu from the Ravagers, which will explain why he takes up with the Guardians.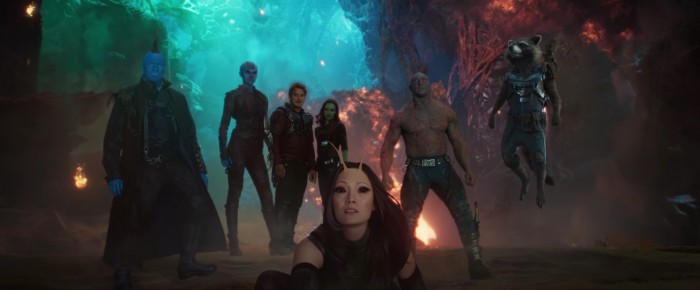 Here it is, ladies and gentlemen: your new Guardians of the Galaxy, now with Mantis, Yondu, and Nebula. Are those last three permanent additions to the roster, or are their alliances only temporary? Time will tell, but it is worth pointing out that Mantis and Nebula are already confirmed to appear with the Guardians in Avengers: Infinity War.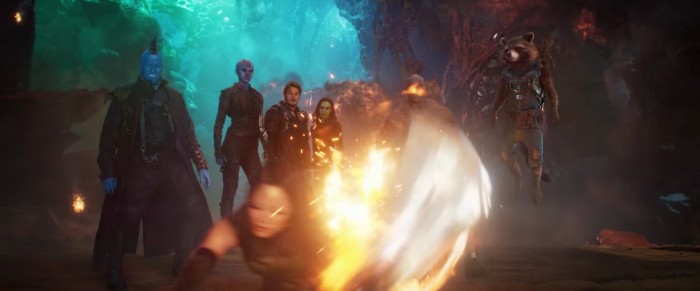 Guardians being Guardians, it immediately undercuts this hero shot by taking out one of the Guardians.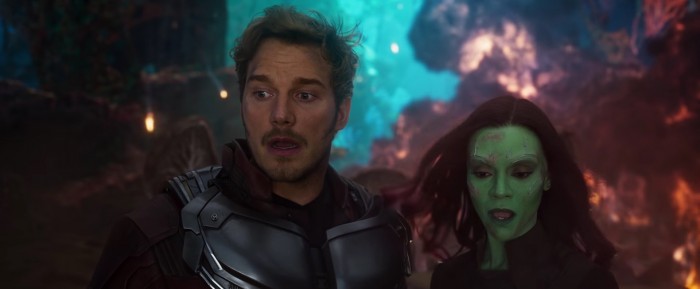 It's bad enough that Star-Lord and Gamora seem stunned.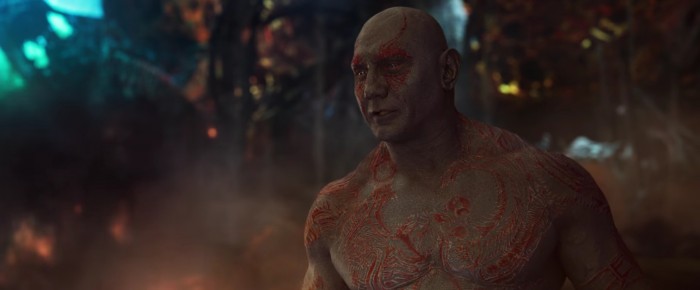 But don't blame Drax — he did yell a warning, even if it was a little too late to make a difference. "I tried, guys," he says.