'Stranger Things' Season 2 Super Bowl Spot: Your New Favorite Show Returns This Halloween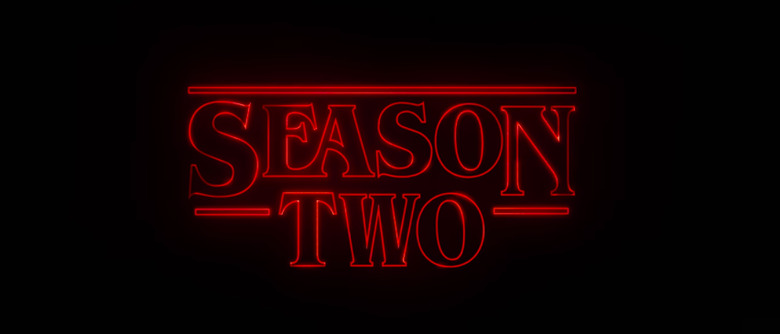 If you've ever wondered if Netflix employees spend their days swimming in tanks of cash, Scrooge McDuck-style, just look at the fact that they just aired a trailer for Stranger Things season 2 during the Super Bowl. That's kind of remarkable when you pause and think about it for a second – in about a year, Netflix's throwback science fiction series went from "out of nowhere sleeper hit" to "show popular enough to warrant airtime during one of the biggest events of the year." And if you're not a football fan, you can watch the spot for yourself below.
We don't know much about what Netflix and series creators/showrunners the Duffer Brothers have up their sleeves for season two, but this is clearly going to be worthy of a weekend-of-release marathon binge. There is no exact release date in the teaser, but it does say "Halloween." So let's say mid-October?
What we do know about Stranger Things season two has come from a handful of interviews with cast and crew. Here's series star David Harbour, who plays Sheriff Jim Hopper, talking about reading the first script of the season:
I got the first script of season two, and the first five minutes I was on my feet going, 'Yes! Yes!' Because they open up the world in such a new way. And these characters that I feel like are so iconic, and that we love so deeply, get to really go on different arcs and different journeys and explore these little things that we touched on in their personalities and psychologies. And we get to really expand on that... I really do think it's going to be thrilling. And you can tweet at me that I'm an idiot if it's not.
And here's series producer and director Shawn Levy, laying the groundwork for how the new season will follow the events of the first year:
It's a year later in the story, so there are several things that happened last year, like Will has come back. There are certain people in the town that know what happened, and then certain people that don't know what happened. So there's a lot of fallout with who knows what.
Stranger Things season 2 will arrive in October and we'll probably know the exact release date soon enough. We're probably going to make ourselves sick talking about it.