'A Cure For Wellness' Super Bowl Spot: Dane DeHaan May Never Leave Gore Verbinski's Horrifying Spa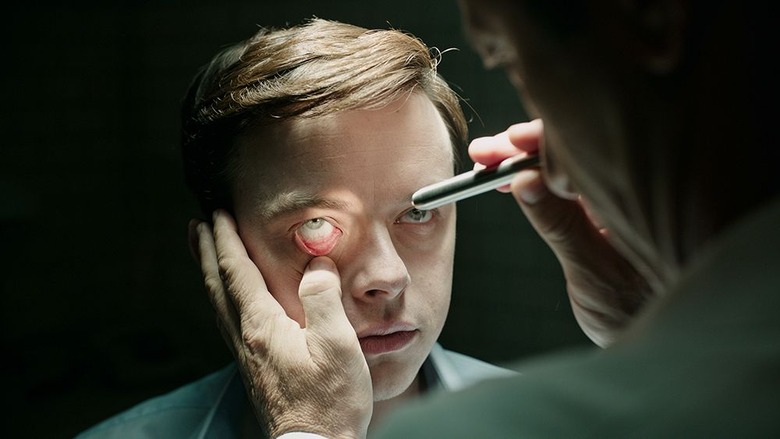 Director Gore Verbinski's last four films are gigantic popcorn movies. Rango, the Pirates of the Carribean sequels, and The Lone Ranger are enormous in scope. With A Cure for Wellness, the director is scaling things back a bit, sticking with mostly one location: one messed up, horrific, and beautifully designed spa.
Below, watch A Cure for Wellness Super Bowl spot.
Dane DeHaan (Kill Your Darlings) plays an ambitious and prickly executive sent to the Swiss Alps to find his boss, Pembroke, at a wellness spa. There's something off about this particular spa, which is all around creepy in appearance and has no water supply shortage. DeHaan's character wants to leave with his boss as soon as possible, but a car accident leaves the exec unconscious for three days, placing him in the hands of the head of the facility (played by Jason Isaacs). Verbinski's thriller, which is well-liked by the few who've seen it, co-stars Mia Goth (Nymphomaniac) as a mysterious patient.
Here's the latest look at the MouseHunt director's new film:
Like our own Angie Han, I had the opportunity to see 35 minutes from A Cure for Wellness. The footage reminded me of Verbinski's remake of The Ring, not in the story department but when it comes to tone, pace, and, at times, the aesthetic. Even when not much is occurring on screen, the director can create a sense of unease with off-kilter frames, cutting choices, and some small, oddball touches.
Verbinski's films rarely lack atmosphere or style. Visually, A Cure for Wellness looks intoxicating. In some ways, it might make for a nice visual companion piece to The Ring, although, again, they're very different movies. The foreboding, the unease, and DeHaan's character, who's comically agitated by the whole situation at the start, left me very curious to see where A Cure for Wellness goes.
Here's the synopsis:
An ambitious young executive is sent to retrieve his company's CEO from an idyllic but mysterious "wellness center" at a remote location in the Swiss Alps. He soon suspects that the spa's miraculous treatments are not what they seem. When he begins to unravel its terrifying secrets, his sanity is tested, as he finds himself diagnosed with the same curious illness that keeps all the guests here longing for the cure. From Gore Verbinski, the visionary director of THE RING, comes the new psychological thriller, A CURE FOR WELLNESS.
A Cure for Wellness opens in theaters February 17th.