John Lithgow Bringing Some Gravitas To 'Pitch Perfect 3'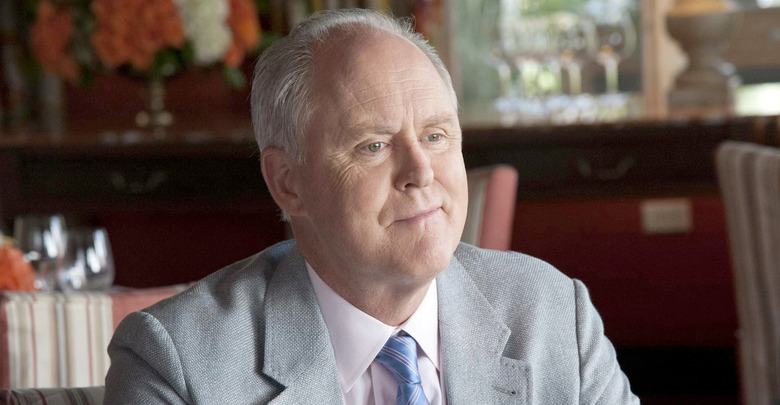 The cast of the first Pitch Perfect already had quite the ensemble with Anna Kendrick, Rebel Wilson, Brittan Snow and Anna Camp leading the Bellas, with Adam DeVine, Skylar Astin and Ben Platt playing Treblemakers, not to mention Elizabeth Banks and John Michael Higgins as the dedicated a capella commentators. Pitch Perfect 2 beefed up things ever so slightly with Hailee Steinfeld and Chrissie Fit joining the ranks of the Bellas. And now another fantastic addition is coming to Pitch Perfect 3.
John Litghow has a decorated career includes Footloose, Harry and the Hendersons, The World According to Garp, Terms of Endearment,The Pelican Brief, the NBC series 3rd Rock from the Sun, Shrek, the underrated Orange County, Rise of the Planet of the Apes, the Showtime series Dexter, This Is 40 and more recently a Golden Globe nominated turn as Winston Churchill in The Crown. Now he's taking a role in Pitch Perfect 3. The Hollywood Reporter announced John Lithgow in Pitch Perfect 3 (just after we heard he may be joining Daddy's Home 2), but the bad news is that we have no idea who he'll be playing. It could be a rival a capella coach, one of the Bellas parents, or maybe even a reprisal of his role as George Henderson. We don't know because his character is being kept under wraps for now.
Actually, pretty much everything about Pitch Perfect 3 is being kept under wraps right now. Though the cast has been getting together for rehearsals and production begins soon, we know noting about the story that franchise writer Kay Cannon has come up with this time. Though we do know that School of Rock writer Mike White wrote the most recent draft.
Directing this time will be Trish Sie, who has some solid experience directing Step Up: All In, not to mention the instantly viral music videos for the songs "Here It Goes Again" and "Upside Down & Inside Out" by the band OK Go. Hopefully this means the a capella performance side of the Bellas will offer more than the lackluster stage presence they had in Pitch Perfect 2, when they were showed up by everything Das Sound Machine had to offer.
As someone who adored the first Pitch Perfect and came away supremely disappointed in Pitch Perfect 2, I'm really hoping that whatever Kay Cannon and Trish Sie came up with for this sequel gets the franchise back on track. We know all the Bellas will be back (though we haven't heard anything about the Treblemakers yet), and this time Ruby Rose and rapper Trinidad James will be joining the cast too. We don't have to wait long to see what they bring to the table since Pitch Perfect 3 is slated to arrive on December 22 this year.