First 'Stranger Things' Season 2 Photo Features The 'Ghostbusters'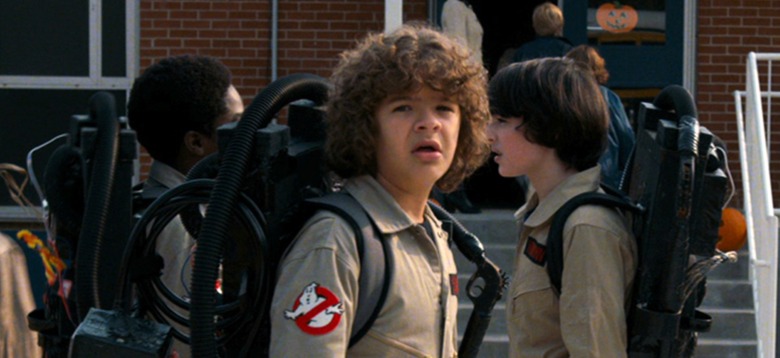 Season two of Netflix's hit series Stranger Things is currently in production, and likely won't hit the streaming service until Summer or Winter 2017. But the first Stranger Things season 2 photo has been revealed in advance of the teaser trailer which will debut during the Super Bowl this Sunday on Fox. Hit the jump to see the first photo.
The below Stranger Things season 2 photo was premiered by Entertainment Weekly: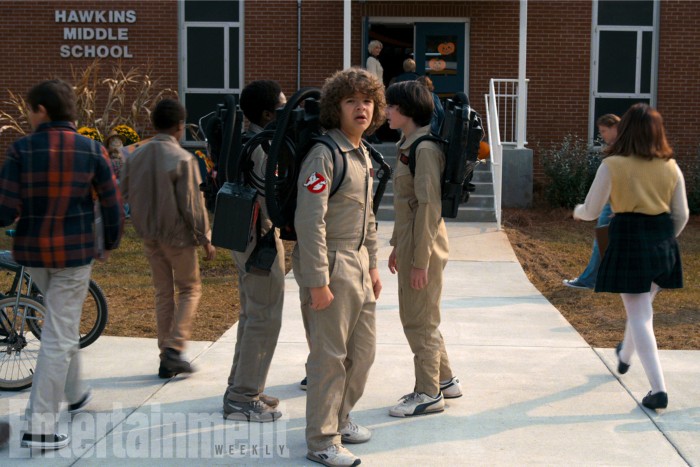 The image features Dustin (Gaten Matarazzo), Mike (Finn Wolfhard), and Lucas (Caleb McLaughlin) dressed as Ghostbusters. To be honest, the photo makes me a bit nervous as I was kind of on the edge with some of the more obvious 80's references in the first season and this looks like something straight out of The Goldbergs (not that there is anything wrong with The Goldbergs, but it's a funny sitcom that is enjoyed an entirely different level than this mysterious dramatic series). We shouldn't worry too much, the decorations in the background indicate that it's Halloween. Although I remember the
We shouldn't worry too much, the decorations in the background indicate that it's Halloween. Although I remember the Halloween costumes looking much shittier when I was a kid growing up in the 1980's.
Stranger Things season 2 takes place in 1984, one year after the events of the first season. Details have been tightly under wraps but executive producer Shawn Levy did offer EW the following tease: "The Demogorgon was destroyed but evil wasn't."
David Harbour has said that the second season will "open the world up in such a new way," teasing:
"It's a year later in the story, so there are several things that happened last year, like Will has come back. There are certain people in the town that know what happened, and then certain people that don't know what happened. So there's a lot of fallout with who knows what."
Levy in the past has described season 2 as "bigger and potentially darker." What exactly that means, I guess we'll just have to wait and see. The teaser trailer being aired during the Super Bowl is not the first for the second season of this show. You might recall that an announcement trailer revealed the episode titles, which gave us much to speculate about. And since then a few more clues have shown up in the form of character descriptions's face throughout.