Sabrina The Teenage Witch Could Appear In 'Riverdale' Season One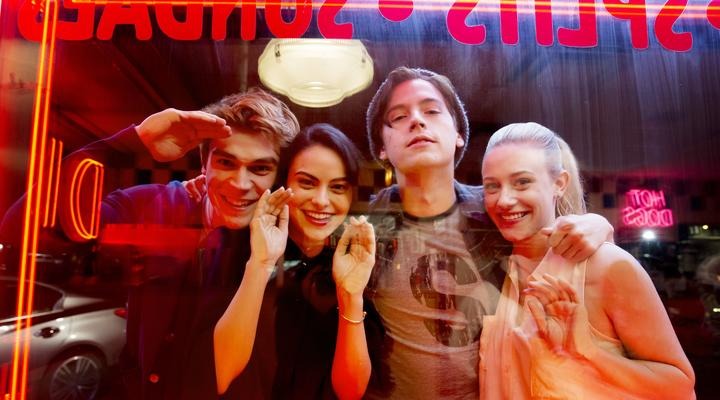 Josie and the Pussycats appeared in the first episode of The CW's Riverdale, which is becoming more entertaining. The group is working on their look, and trying to tell their story through their music. Publisher Archie Comics introduced them to comic book readers in 1963. A year earlier, another famous character from Archie Comics, Sabrina the Teenage Witch, made her debut in Archie's Madhouse #22. Writer George Gladir and artist Dan DeCarlo's character went on to have an animated show and a '90s sitcom, but like Josie and the Pussycats, will she ever show her face in the creepy town of Riverdale? The show's creator, Roberto Aguirre-Sacasa, says it's a possibility.
Below, learn more about the potential of seeing Sabrina the Teenage Witch in Riverdale.
The Wrap asked Aguirre-Sacasa if we'll ever see Sabrina the Teenage Witch in Riverdale. "We could [see her in Season 1]," he responded. "As I say, never say never, but it's certainly within the realm of possibility." The potential problem is making the character fit Riverdale. Archie's dreary and mysterious town doesn't seem to have anything to do with magic. Aguirre-Sacasa wants to introduce her in "a way that's not supernatural," but then again, "she's a witch."
His vision for the character is "dark":
As dark as Riverdale is, the vision for Sabrina is even darker. Riverdale is on one side of the Sweetwater River and Greendale, where Sabrina lives, is on the other. There's sort of that mythic idea that on one side of the river there's one reality and on the other side of the river there's another reality. So who knows? But yeah, there's definitely a universe where Sabrina pops up in Riverdale, or there's a version of Sabrina that exists in her own witchy bubble.
Sabrina Spellman probably isn't a character who falls under the category of "dark" for most people, especially if you're only familiar with the series that starred Melissa Joan Hart. Riverdale has a drastically different tone than Sabrina the Teenage Witch, though. If the character does ever appear on the CW show, whether in season one or another time, it's not surprising they'd go with a darker take. So far, Riverdale is not a series about the happiest of kids.
Here's the official synopsis for the Archie show:
As a new school year begins, the town of Riverdale is reeling from the recent, tragic death of high school golden boy Jason Blossom — and nothing feels the same. Archie Andrews (KJ Apa) is still the all-American teen, but the summer's events made him realize that he wants to pursue a career in music and not follow in his dad's footsteps despite the sudden end of his forbidden relationship with Riverdale's young music teacher, Ms. Grundy (Sarah Habel). Now Archie has no one to mentor him, certainly not singer Josie McCoy (Ashleigh Murray), who is only focused on her band, the soon-to-be-world-famous Pussycats. It's all weighing heavily on Archie's mind — as is his fractured friendship with budding writer and fellow classmate Jughead Jones (Cole Sprouse).
Meanwhile, girl-next-door Betty Cooper (Lili Reinhart) is anxious to see her crush Archie after being away all summer, but she's not quite ready to reveal her true feelings to him. And Betty's nerves, which are hardly soothed by her overbearing mother Alice (Mädchen Amick), aren't the only thing holding her back. When a new student, Veronica Lodge (Camila Mendes), arrives in town from New York with her mother Hermione (Marisol Nichols), there's an undeniable spark between Veronica and Archie, even though Veronica doesn't want to risk her new friendship with Betty by making a play for Archie. And then there's Cheryl Blossom (Madelaine Petsch)... Riverdale's Queen Bee is happy to stir up trouble amongst Archie, Betty and Veronica, but Cheryl is keeping secrets of her own. What, exactly, is she hiding about the mysterious death of her twin brother, Jason? Riverdale may look like a quiet, sleepy town, but there are dangers in the shadows.
Riverdale airs on Thursdays on The CW.