The Peter Jackson-Produced 'Mortal Engines' Casts Robbie Sheehan And Ronan Raftery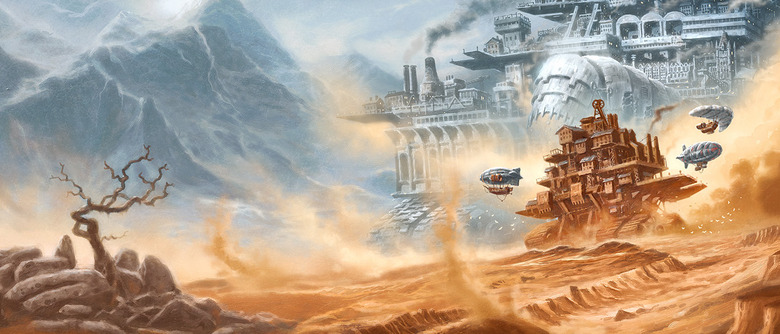 Peter Jackson's adaptation of Mortal Engines was one of those projects that I always assumed would never actually happen because we've been hearing about it for so damn long with no signs of actual progress. The film was first announced back in 2009, with Jackson on board to direct. Then he was promptly sucked back into Middle-Earth for those three Hobbit movies, leaving everyone to wonder if this was going to turn out like The Dam Busters, a World War II drama that Jackson announced and never got around to actually making.And then the wheels starting turning last year: Mortal Engines got the go-ahead from Universal and MRC, with Christian Rivers (one of Jackson's longtime collaborators) sitting the director's chair. Now, the film has gone and cast two actors, offering further evidence that this movie will actually exist one day.
Find out who joined the Mortal Engines cast after the jump.
According to Variety, Robbie Sheehan and Ronan Raftery have been cast in Mortal Engines. Their characters remain under wraps, but Sheehan will play "a lead role" and Raftery will have "a supporting role." If you've read author Philip Reeve's Predator Cities series (of which Mortal Engines is the first of four books), feel free to speculate on who they're playing. If you're like me and are not familiar with these books, here's how Variety describes the basic plot:
The book is set thousands of years in the future. Earth's cities now roam the globe on huge wheels, devouring each other in a struggle over diminishing resources. On one of these massive Traction Cities, Tom Natsworthy has an unexpected encounter with a mysterious young woman from the Outlands, who will change the course of his life forever.
So we're talking about YA steampunk Mad Max here? Sure. Why not? Bring it on.
This isn't Sheehan's first brush with movies based on young adult book series, as he also starred in The Mortal Instruments: City of Bones, which failed to launch a franchise back in 2013. Rafters is also no stranger to beloved book universes on the big screen, having played Langdon Shaw in Fantastic Beasts and Where to Find Them.
While Jackson won't direct Mortal Engines, he's still on board as a producer and wrote the screenplay with his Lord of the Rings co-writers, Fran Walsh and Philippa Boyens. While this is Rivers' feature debut as a director, he has worked with Jackson for decades, beginning his career as a storyboard artist on Braindead before winning an Oscar for King Kong's visual effects and directing second unit on the Hobbit movies. Most recently, he directed second unit on Pete's Dragon.
Mortal Engines is expected to arrive on December 14, 2018.