'The Conjuring' Spin-Off 'The Nun' Scares Up A Director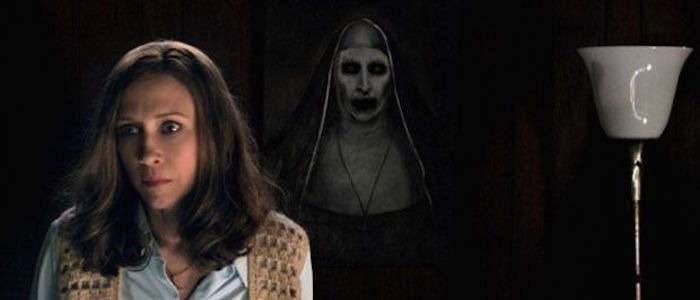 Few horror movies have instantly won my heart quite like James Wan's The Conjuring and last year's follow-up is one of the best horror sequels ever made. Much like how the first movie inspired a spin-off in the form of Annabelle, The Conjuring 2 is getting its own spin-off with The Nun, which will further explore the terrifying demonic presence that paranormal researchers Ed and Lorraine Warren battled during their trip to London.
Now, we know who's going to direct The Nun – relative newcomer Corin Hardy.
Deadline has the news of Hardy's hiring for The Conjuring spin-off, but most of the details are being kept under wraps at the moment. We don't know the story or whether it will take place before or after the events of The Conjuring 2, but we do know that Wan co-wrote the screenplay alongside Gary Dauberman, who penned Annabelle and its upcoming sequel.
Although Hardy has directed his fair share of short films and music videos, he made his feature debut with the 2015 horror film The Hallow, which follows a family living in the Irish countryside who finds themselves battling a demonic creature. I've actually seen this one pop up on Netflix several times and have noted its cool poster art. I guess it's time to actually get around to checking it out! More recently, Hardy was attached to direct that long-gestating, long-suffering reboot of The Crow that the universe has been beating to the ground every single time it tries to get made. He left that project about a year ago.
While the chief draw of both Conjuring movies has been the performances by Patrick Wilson and Vera Farmiga (they're one of my all-time favorite movie couples!), that spooky nun made for an intimidating antagonist and I can definitely see a spin-off film delivering the goods under the right circumstances. If the core series is all about celebrating the good guys, a rarity in horror, I'm all for the various spin-offs putting the forces of evil front-and-center. And yes, I'm that guy who really enjoyed Annabelle and am looking forward to the sequel arriving later this year, especially since the talented David F. Sandberg (whose Lights Out is a lot of fun) is calling the shots this time around.
There is no release date for The Nun yet, but horror sequels tend to come together at a speed that boggles the mind. I'd put good money on this one arriving sometime in 2018.