'The Walking Dead' Will Have Less Main Character Deaths; Watch Midseason Premiere Promo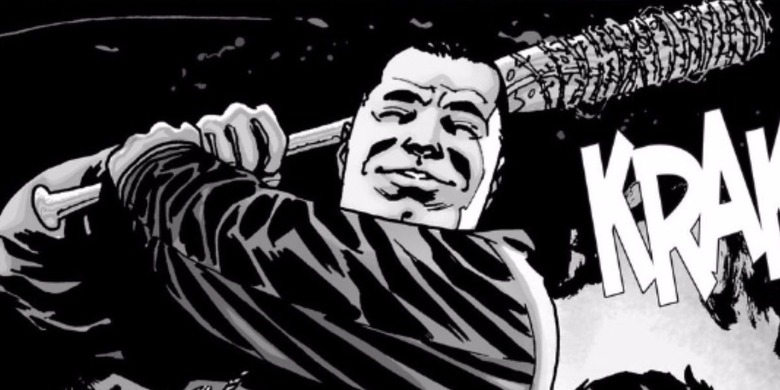 The characters who've survived so far in The Walking Dead comics have probably lived this long for a reason. Since Robert Kirkman's black-and-white zombie comic started in 2003, quite a few prominent characters have been killed off in the zombie wasteland. The series is famous for some memorable death scenes. Season seven of the television series, which returns in less than two weeks, was even hyped up over the death of one character — a tease in the season six finale that polarized fans.
Kirkman says, at least in the comics, not to expect too many major deaths in the near future. Below, read what else he had to say about the fate of his characters and watch a promo for the second half of season seven of The Walking Dead.
Kirkman recently completed the Whisperer War storyline. The war left only one major character dead, which might've surprised a few fans. For Kirkman, killing off only one central figure was the logical choice to him. In issue #163, he explained why:
In my opinion, there should be less death in the book now, much less, because the careless people, the scared people, the people learning how to live in this world are already dead. This is the cream of the crop, so to speak. So, yes, there can be a conflict like the Whisperer War, and there can be very little death. You think Michonne is going to just let herself get bitten by a zombie or stabbed by a Whisperer at this point? It wouldn't be believable! Rick, Andrea, Carl, Jesus, Dwight, Negan, Maggie, these people are tempered steel! That's not to say they're invulnerable, or 'safe' now but it would take a lot to kill them.
You don't survive as long as Rick, Andrea, Negan, Maggie, and the rest of the crew have by acting stupid in those scenarios. The fact that they're faster, stronger, and harder to kill makes perfect sense. Also, The Walking Dead deaths can only target main characters for so long until there's nobody left to follow, so of course Rick and everybody are going to stick around a little while longer.
In a promo for the season 7 midseason premiere of The Walking Dead, though, the characters appear far more vulnerable (via IGN):
As stated above, the season six finale wasn't satisfactory for all fans. The people who weren't fans of the ending shouldn't expect the same mistake twice with the season seven finale. "I think everyone on The Walking Dead creative team has taken note of that, and I don't know that I would expect a similar cliffhanger at the end of season 7," Kirkman said.
Here's the official synopsis for the second half of Season 7:
The first half of Season 7 saw Rick (Andrew Lincoln) and the group broken by Negan (Jeffrey Dean Morgan), forced to fall under his will and brutally convinced to live under his rules. The second half of the season will focus on preparing for war and gathering the supplies and numbers to take Negan down once and for all.
Rick's group will find out yet again that the world isn't what they thought it was. It's much bigger than anything they've seen so far. While they have a singular purpose – to defeat Negan – it won't come easy. More importantly, victory will require more than Alexandria. They need the numbers of the Kingdom and the Hilltop, but, similar to how Rick felt, Ezekiel (Khary Payton) and Gregory (Xander Berkeley) do not want bloodshed. To convince them otherwise will take more than speeches. The lengths Rick and the group will have to go to in order to find weapons, food and new fighters is nothing short of remarkable.
We'll meet new survivors in incredible places. We'll see Rick and the group tested in ways we've never seen before. We'll see treachery from people we trust. Rick is confident as he will see his group and many others band together with the common goal of taking down Negan. But no amount of planning will prepare the group for all-out war with Negan and his army.
The Walking Dead returns to AMC on February 12.