'Sharknado 5' Is Coming To Syfy This Year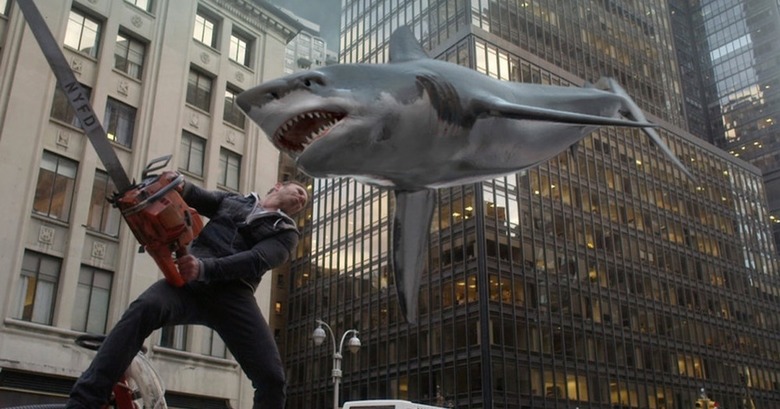 The Sharknado series lives on. So far the Syfy channel has provided us with Sharknado 2: The Second One, Sharknado 3: Oh Hell No!, and last summer's Sharknado: The 4th Awakens. There's currently no title for the fifth Sharknado feature, but director Anthony C. Ferrante and stars Ian Ziering and Tara Reid are returning for it.
Below, learn more about Sharknado 5.
With the fifth Sharknado film, the story is finally going international. "I want to do international," Ferrante said after making the fourth film. "There are still U.S. cities that I want to destroy. But it's less about the cities, and it's more about, what are we going to do with Ian and Tara, and what genres do we want to play with." The director is going to shoot the sequel in more than five countries, including Australia and the U.K.
The screenwriter behind The 4th Awakens and all the previous Sharknado movie, Thunder Levin, has not returned to write Sharknado 5. Instead, Scotty Mullen wrote the shark adventure, with most of North America torn to pieces by the previous Sharknado films, it's time for the rest of the world to brace themselves for what's coming: an all-out, inescapable global Sharknado. It's up to the one and only Fin Shepard (Ziering) and his family to save the planet from annihilation. Ferrante considers Reid's character and Fin Shepard the invaluable leads of the Sharknado series. Fans could've decided to kill off April (Reid) in The 4th Awakens, but she ultimately survived the vote, much to Ferrante's delight. "You wouldn't do Die Hard without Bruce Willis," he said, dropping a lofty comparison.
The Sharknado series started on Syfy back in 2013. What was once just a silly title to chuckle about has now led to four sequels, which all debut during the summertime one year after another. 1.37 million viewers tuned in when the first Sharknado aired, and the sequels have performed even better, averaging close to 3 million viewers. Sharknado 2: The Second One ,was watched by 3.87 million when it aired. They're all fairly inexpensive and made quickly, too Sharknado cost $2 million, and the sequels didn't cost much more than that. The 4th Awakens is the most expensive, with a budget of $3 million.
There's no official title yet for the next installment, but IMDB has it listed as Sharknado 5... Earth 0, which would make for an appropriately silly title for this very silly series, which isn't without its fans. They keep tuning in to watch these movies, so of course, Syfy is going to keep making them.