Josh Gad Continues To Try To Pry 'Star Wars' Answers From Daisy Ridley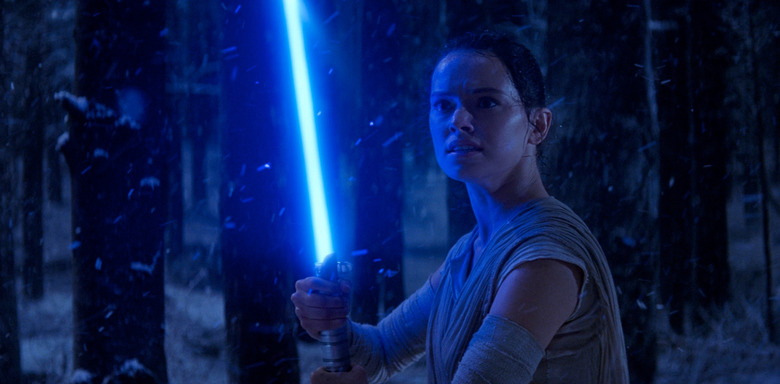 After Disney announced that the eighth episode of the Skywalker saga would be titled Star Wars: The Last Jedi, Frozen star Josh Gad posted a video on facebook jokingly grilling Daisy Ridley, his co-star in the currently filming Kenneth Branagh remake of Murder on the Orient Express, about who is the titular Last Jedi.
A week later, Gad has returned with another video inside of his on-set trailer, grilling Ridley about other questions about the future of the Star Wars film franchise. Of course, don't expect any answers, just some laughs. Watch Josh Gad continue to annoy Daisy Ridley about Star Wars, after the jump.
Here is the original video posted last week with Josh Gad grilling Daisy Ridley about who the last Jedi is in Star Wars Episode VIII:
And finally, here is the follow-up video with Josh Gad trying to trick Daisy Ridley into answering questions about the future of the Star Wars series, including who are Rey's parents, is Rey a Jedi and was Finn left paralyzed from the waist down from the events of Star Wars: The Force Awakens. Of course, Ridley's reaction is hilarious. Watch the video embedded below:
Murder on the Orient Express is currently filming now with a release date set for November 22, 2017. The film follows a renowned Belgian detective Hercule Poirot (played by director Kenneth Branagh) investigating the murder of a wealthy American traveling on the Orient Express, the most famous train in the world. Daisy Ridley plays a character named Mary Debenham, while Josh Gad plays Hector McQueen.
What's crazy is that Star Wars: The Last Jedi wrapped filming in July 2017 and will hit theaters one month later than Murder on the Orient Express on December 15th, 2017. Of course, one of those movies probably has substantially more visual effects which probably explains the timing.