'The Lost City Of Z' Trailer: Charlie Hunnam Looks For The Ultimate Piece Of The Human Puzzle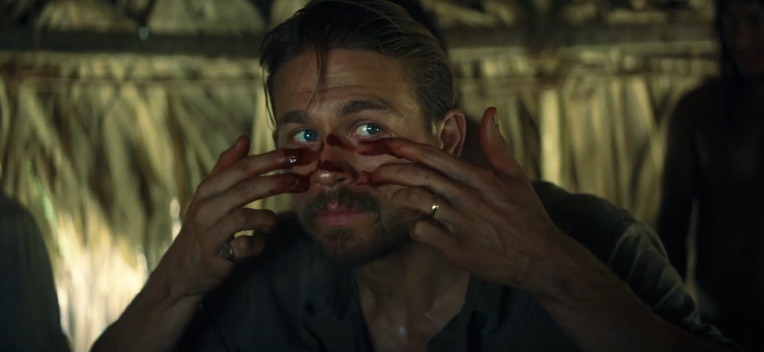 Charlie Hunnam has taken on giant monsters and motorcycle gangs before, but this spring he'll confront a hidden civilization deep in the jungle of the Amazon.
The Lost City of Z follows Charlie Hunnam as real life British explorer Percy Fawcett, a man who set out into the Amazon in the early 1900s in order to find a civilization of people he believed to be living in the jungle. Looked down upon by his colleagues, Fawcett hoped to find answers to the questions about where humanity came from by learning whether or not the mysterious people of the jungle had a civilization that predated our own. As you can imagine, this journey was filled with great danger, and you can see just how risky it was in a new trailer.
Here's The Lost City of Z trailer for the film's domestic release from Amazon Studios:
This has even more footage that we hadn't
for the long-developing film from director James Gray. It's even more ominous, and the editing does a nice job of hiding the fact that Fawcett disappeared sometime in 1925. That's not a spoiler since the official synopsis (below) says as much, but the cutting of the trailer makes it seem as if he returns from the perilous adventure, even though that's not the case.
We don't get to see as much Robert Pattinson this time around, though he still makes an appearance. Sienna Miller gets some more screentime in this trailer though, and there's even a part for Harry Melling, who played Harry Potter's awful cousin Dudley Dursley. It looks like he's still a bit of a jerk in this movie too.
The Lost City of Z opens in NY and LA on April 14 and expands wider the following week.
Based on author David Grann's nonfiction bestseller, The Lost City of Z tells the incredible true story of British explorer Percy Fawcett (Charlie Hunnam), who journeys into the Amazon at the dawn of the 20th century and discovers evidence of a previously unknown, advanced civilization that may have once inhabited the region. Despite being ridiculed by the scientific establishment who regard indigenous populations as "savages," the determined Fawcett – supported by his devoted wife (Sienna Miller), son (Tom Holland) and aide de camp (Robert Pattinson) – returns time and again to his beloved jungle in an attempt to prove his case, culminating in his mysterious disappearance in 1925. An epically-scaled tale of courage and obsession, told in Gray's classic filmmaking style, The Lost City of Z is a stirring tribute to the exploratory spirit and those individuals driven to achieve greatness at any cost.