'Baywatch' Super Bowl Spot: Dwayne Johnson & Zac Efron Have Some Fun In The Sun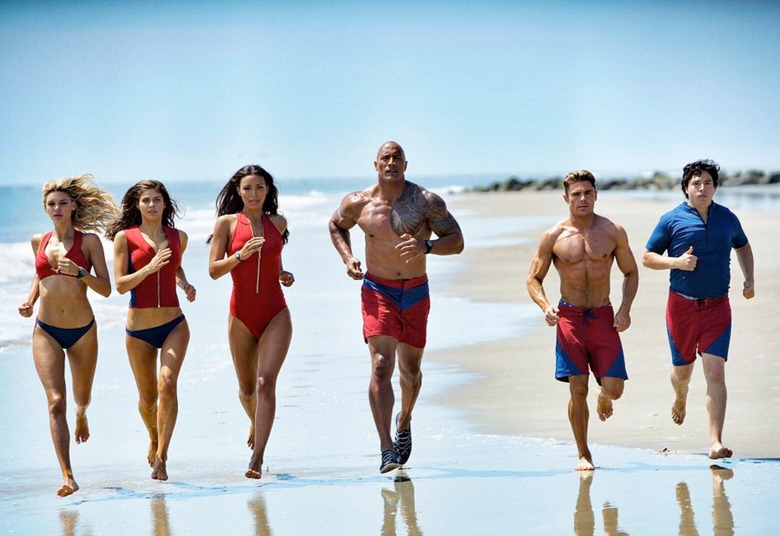 Can Baywatch the movie do to Baywatch the TV show what 21 Jump Street the movie did to 21 Jump Street the TV show? We don't know yet, but it looks like Dwayne Johnson and Zac Efron will make it happen or die trying. They star as a couple of lifeguards tasked with restoring the Baywatch brand (how meta) and tracking down a sinister criminal plot threatening their beloved beach.
Also starring are Kelly Rohrbach as the new C.J. Parker (i.e., the new Pamela Anderson), plus Alexandra Daddario, Ilfenesh Hadera, Jon Bass, and Priyanka Chopra. While this Baywatch clearly boasts a goofier tone and some splashier action, it retains the same obsession with ogling suntanned hardbodies. Check out the Baywatch Super Bowl spot below.
Baywatch Super Bowl Spot
Efron's very good at playing ditzy dudebros, as we've seen in movies like Neighbors, and Johnson's a charismatic presence who can light up seemingly any screen. And Baywatch won't be the first dusty old property that he's revived — he's been called "franchise Viagra" for his uncanny ability to breathe new life into sagging film series. Baywatch seems to be playing to those strengths, but it won't pass muster unless they also prove to have good comedic chemistry together.
Honestly, at this time of year, I'm mostly just weirded out to see people running around in skimpy clothing and enjoying bright, hot sunshine. Most of the country is still shivering under winter coats and despairing at the long evenings. But summer will be here sooner than you think, and when it comes the Baywatch crew hope you'll join them for some sun and surf. Baywatch splashes into theaters May 19, 2017. Seth Gordon (Horrible Bosses) directed.
Here's the logline:
BAYWATCH follows devoted lifeguard Mitch Buchannon (Johnson) as he butts heads with a brash new recruit (Efron). Together, they uncover a local criminal plot that threatens the future of the Bay.