'Girls Trip' Teaser: Jada Pinkett Smith & Queen Latifah Head Down To The Big Easy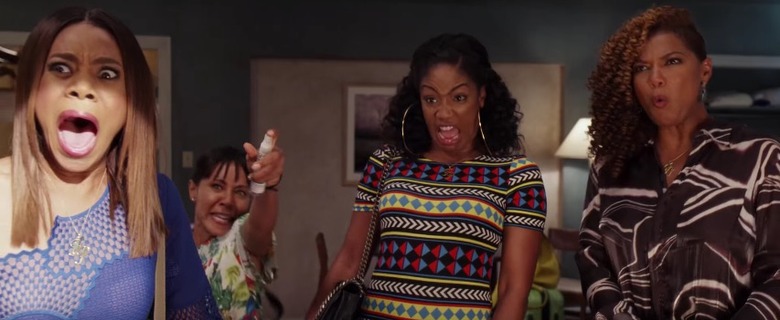 Regina Hall, Queen Latifah, Jada Pinkett Smith, and Tiffany Haddish are planning a party vacation to remember in Girls Trip, and you know what that means: things are about to go hilariously, horribly awry. That's just how these kind of trips go in the movies. But the first trailer doesn't dwell on the misadventures and hangovers we know are coming. Instead, it highlights the lovable cast and offers a taste of the great times to come. Check out the Girls Trip teaser below.
There is always going to be room in this world for wish-fulfillment comedies about epic parties and dream vacations, and Girls Trip looks like it fits right in that mold. The cast is full of stars you've seen and liked in other things – including Luke Cage's Mike Colter, whose unbreakable skin looks like it's about to get put to the test by that broken wine bottle — and they all look like they're having a great time together. Why not accept their invitation to tag along? Let's just hope that last line ("I don't find this funny at all") doesn't prove too prophetic.
Girls Trip is in theaters July 21, where it should serve nicely as a fizzy, feather-light alternative to Christopher Nolan's much grimmer Dunkirk and Luc Besson's much weirder Valerian and the City of a Thousand Planets. The comedy is directed by Malcolm D. Lee (Barbershop: The Next Cut, The Best Man Holiday).
When four lifelong friends—Regina Hall, Queen Latifah, Jada Pinkett Smith and Tiffany Haddish—travel to New Orleans for the annual Essence Festival, sisterhoods are rekindled, wild sides are rediscovered, and there's enough dancing, drinking, brawling and romancing to make the Big Easy blush. James Lopez, head of motion pictures for Will Packer Productions, and Preston Holmes, executive produce.