'Guardians Of The Galaxy Vol. 2' Images: A Bunch Of A-Holes Make Some New Friends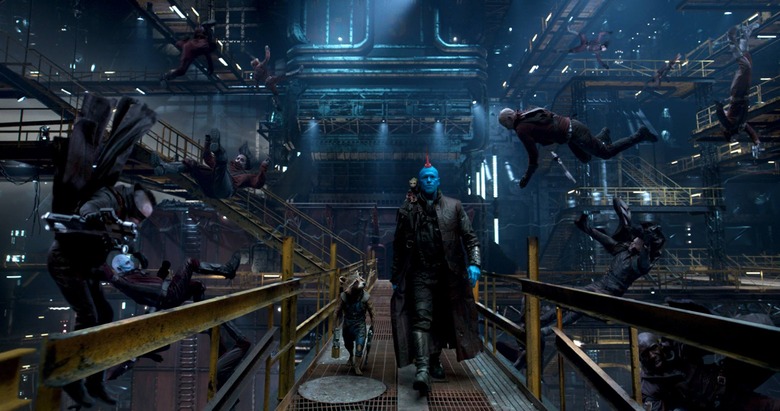 For a bunch of a-holes, the Guardians sure seem good at making friends. A new batch of Guardians of the Galaxy Vol. 2 images show off the gang's new pal Mantis (Pom Klementieff), and teases a team-up between Yondu (Michael Rooker), Rocket (Bradley Cooper), and Baby Groot (Vin Diesel). Plus, get new looks at Drax (Dave Bautista), Gamora (Zoe Saldana), and Star-Lord (Chris Pratt), all after the jump.
USA Today unveiled the new Guardians of the Galaxy Vol. 2 images.
The first Guardians ended with this ragtag group of misfits forming an unlikely family. And it looks like that family will expand a bit in the sequel. In the accompanying article, Bautista teased an unlikely friendship between Drax and Mantis. "He looks like this big tough brute but there's a sense of innocence and heartbreak about him," he said. In addition, the gang will be meeting Star-Lord's biological dad, Ego the Living Planet (Kurt Russell). On top of all that, we can also expect the return of Gamora's sister, Nebula (Karen Gillan), and Star-Lord's adopted dad, Yondu.
Speaking of dads, you may have noticed that we've yet to get a proper glimpse at Ego. For that matter, we're still waiting on a better look at Ayesha (Elizabeth Debicki). So far, we've only seen those characters in toy form. But that's likely to change soon — like, in a few more days on Super Bowl Sunday. Disney's bought a couple of spots during the game, and I'm betting one of those will go to Star-Lord and his gang.
Guardians of the Galaxy Vol. 2 is in theaters May 5.
Set to the backdrop of 'Awesome Mixtape #2,' Marvel's Guardians of the Galaxy Vol. 2 continues the team's adventures as they traverse the outer reaches of the cosmos. The Guardians must fight to keep their newfound family together as they unravel the mysteries of Peter Quill's true parentage. Old foes become new allies and fan-favorite characters from the classic comics will come to our heroes' aid as the Marvel cinematic universe continues to expand.