'Fist Fight' Red Band Trailer: Ice Cube Is Ready To Knock The F**k Out Of Charlie Day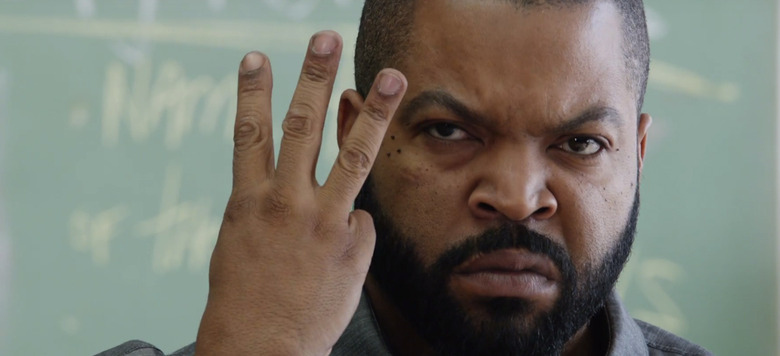 Most movies about teachers are meant to be inspirational in some way. Some new teacher comes in and has to figure out how to reach some troubled youth. But every now and then comes a comedy that just lets the people who get paid far too little to deal with far too much bullshit cut loose. Fist Fight is trying to be one of those comedies.
In one of the most peculiar comedy match-ups, Ice Cube and Charlie Day star in this comedy about two teachers who are about to come to blows. After high school English teacher Mr. Campbell (Day) crosses his rough and tough colleague Mr. Strickland (Cube), it results in the latter teacher being fired. So the only logical thing to do is for Mr. Strickland to challenge Mr. Campbell to a fight in the parking lot. And this fight isn't the only inappropriate thing about to happen on school grounds. You'll see what I mean when when you watch the Fist Fight red band trailer.
This will undoubtedly have appeal to some of the teachers out there who are eager to go wild and hear characters say the things they could never get away with saying in a school. There are several teacher friends I know who are excited to see what this movie holds, just based on the premise alone.
Honestly, there's nothing about this that looks all that great. Not even Ice Cube saying "fuck da police" comes off well in this trailer. The premise not only feels flimsy, but it just feels like an excuse to have teacher characters who are vulgar and raunchy. There might be some fun to be had, but I'm not really sold yet. At the very least, the supporting cast does offer some hope as it includes Tracy Morgan, Christina Hendricks, Jillian Bell and Kumail Nanjiani.
Television director Richie Keen (It's Always Sunny in Philadelphia, The Goldbergs) directs Fist Fight, written by future Wedding Crashers 2 scribes Evan Susser and Van Robichaux, and the movie hits theaters on February 17.
On the last day of the school year, mild-mannered high school English teacher Andy Campbell (Day) is trying his best to keep it together amidst outrageous senior pranks, a dysfunctional administration and budget cuts that are putting his job on the line just as his wife is expecting their second baby. But things go from bad to worse when Campbell crosses the school's toughest and most feared teacher, Ron Strickland (Ice Cube), causing Strickland to be fired. To Campbell's shock—not to mention utter terror—Strickland responds by challenging him to a fist fight after school. News of the fight spreads like wildfire as Campbell takes ever more desperate measures to avoid getting the crap beaten out of him. But if he actually shows up and throws down, it may end up being the very thing this school, and Andy Campbell, needed.