'Chuck Hank And The San Diego Twins' Teaser Trailer: From The Guys That Brought Us 'Bellflower'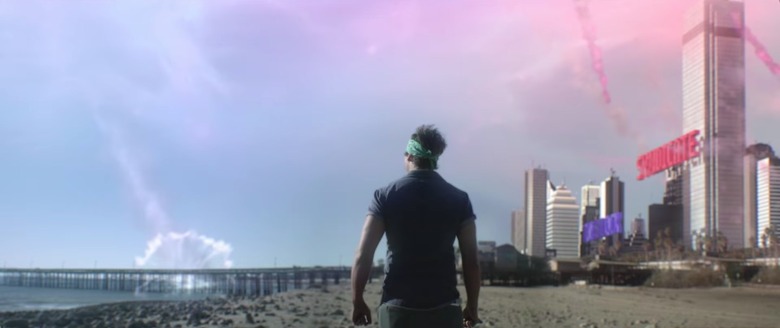 Way back in the simpler days of 2011, writer-director-actor Evan Glodell made a big splash with his debut feature, Bellflower. The pre-apocalyptic romance felt both familiar (it's an extended Mad Max riff) and totally new (but have you ever seen an extended Mad Max homage that was also a bittersweet breakup story?), and heralded Glodell as a scrappy young talent to watch.
But then Glodell kind of disappeared from view. It's only now he's finally returned, with a brand-new film called Chuck Hank and the San Diego Twins. While Glodell doesn't write and direct this time — that honor goes to first-timer Jonathan Keevil — the movie seems to be very much in a similar vein as his earlier effort, combining '80s nostalgia and emotional personal drama in one eye-catching package. Oh, and it also reunites Glodell with his Bellflower co-star Tyler Dawson. In short, if you loved Bellflower, you'll definitely want to check this out. Watch the Chuck Hank and the San Diego Twins teaser trailer below. 
If you're a Gen Xer or an older Millennial, you'll likely recognize a lot of your youth in the trailer above. Said Keevil:
We set out to recreate and pay homage to iconic sequences from fighting video games from the 1980s and 1990s but we wanted to also tell a compelling story about brotherhood and family. Through a lot of blood, sweat and tears we were able to create exactly that.
The video game influence is unmistakable, but Chuck Hank and the San Diego Twins isn't a simple imitation. It mixes and matches all sorts of cultural influences from the era to form a dramatic tale about the end of the world. Maybe this film will be be successful, maybe it won't, but you can bet that Chuck Hank and the San Diego Twins will be an interesting oddity if nothing else.
Chuck Hank and the San Diego Twins will be in theaters sometime this summer. David Arquette, Troian Bellisario, Michael Pare, Olivia Taylor Dudley, Don Frye, and Josh Barnett also star.
The Syndicate, an evil gang bent on world domination, summons a secret weapon from the heavens and breaks the long-standing truce with the San Diego family by kidnapping their sister and cutting off the town's supply of Tatsui Power-Up Drinks. Now Chuck Hank and the San Diego Twins must decide whether to fight – risking their lives, family, and the future of Flat Earth – or surrender their land to save their sister.