Watch The Original Improvised Auditions For 'Paranormal Activity'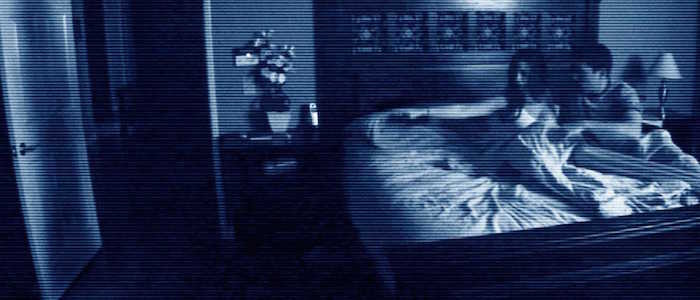 Although the first Paranormal Activity film didn't open in wide release until 2009, it held its first festival screenings in 2007. The means one of the more divisive modern horror franchises is about to celebrate its tenth birthday. Aw. Happy birthday, Paranormal Activity.
Perhaps that's why Oren Peli, the director of the first film and a producer on all of the sequels, has posted Katie Featherston and Micah Sloat's original auditions on YouTube. And in keeping with the film's style, these auditions were completely improvised by the actors, giving us some insight into the film's unusual production.
The first Paranormal Activity movie was produced for only $15,000 and there was no actual screenplay. Instead, Peli and his small cast of unknown performers worked from a loose outline, improvising their dialogue and finding their interactions in the moment. This approach means that Paranormal Activity is one of the few found footage horror movies that feels like it could be an actual document that has been discovered, something that you probably shouldn't be watching. Like The Blair Witch Project, its rambling tone and dull streaks ultimately contribute to a feeling of uncomfortable reality. Surely a real movie wouldn't waste so much time on things that seem so unimportant, right? But that's the grand trick – you don't notice that the pot of water is boiling until it's too late.
So its fascinating to watch Featherston and Sloat's original improvised auditions, knowing that they have no idea what they're about to make or that they'll help kickstart a massively successful horror series.
While the first Paranormal Activity isn't my favorite of the series (that would be the enormously underrated and ambitious Paranormal Activity: The Marked Ones), it is the most raw of the bunch and probably the most fun to talk about. Over the course of five sequels, the series wore out its welcome with audiences, but I'll never forget seeing the first movie a few days before Halloween and hearing the person in the row behind me softly crying as the film became too much for her to take.
This footage also has me wondering what Peli has been up to recently. He's a producer on the Insidious films and co-created the short-lived TV series The River, but he's only directed a single film since the original Paranormal Activity – the not-as-bad-as-you've-heard (but not especially great) found footage science fiction horror movie Area 51. I don't know about anyone else, but I'm personally ready to see another movie from this guy.