'Beauty And The Beast' Will Be Full Screen IMAX For The Entire Film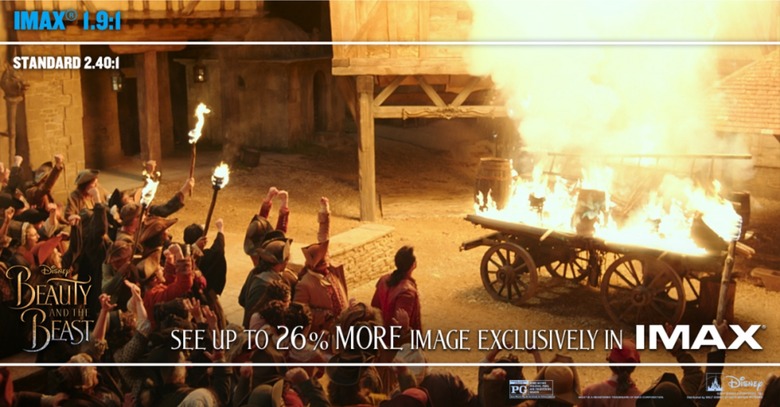 IMAX has revealed that Disney's live-action Beauty and the Beast will be specially formatted to fit the full digital IMAX screen for the entirety of the movie.
http://i.imgur.com/6VrWDBr.gifv
Today IMAX announced that the entire new Beauty and the Beast will be specially formatted and presented in an expanded 1.9:1 aspect ratio. This means that if you see the film in an IMAX theater, the movie will fill the entire digital screen. The result is that fans will see 26% more of the image in IMAX versus standard theaters.
To illustrate the expanded aspect ratio, IMAX has released the following animated gif image showcasing the Beauty and the Beast IMAX aspect ratio and depicting what movie-goers will see in standard theatres versus what they will see in IMAX.
While movie theaters are filled with gimmicks these days, the full screen IMAX experience is something that consistently wows me. I remember seeing the prologue for The Dark Knight for the first time and feeling like I was immersed in that world in a way that even 3D has been unable to replicate.
The company has also released a new exclusive Beauty and the Beast IMAX poster that "celebrates Belle and the Beast's iconic ballroom scene while the enchanted Chip, Mrs. Potts, Lumiere, Cogsworth and more look on."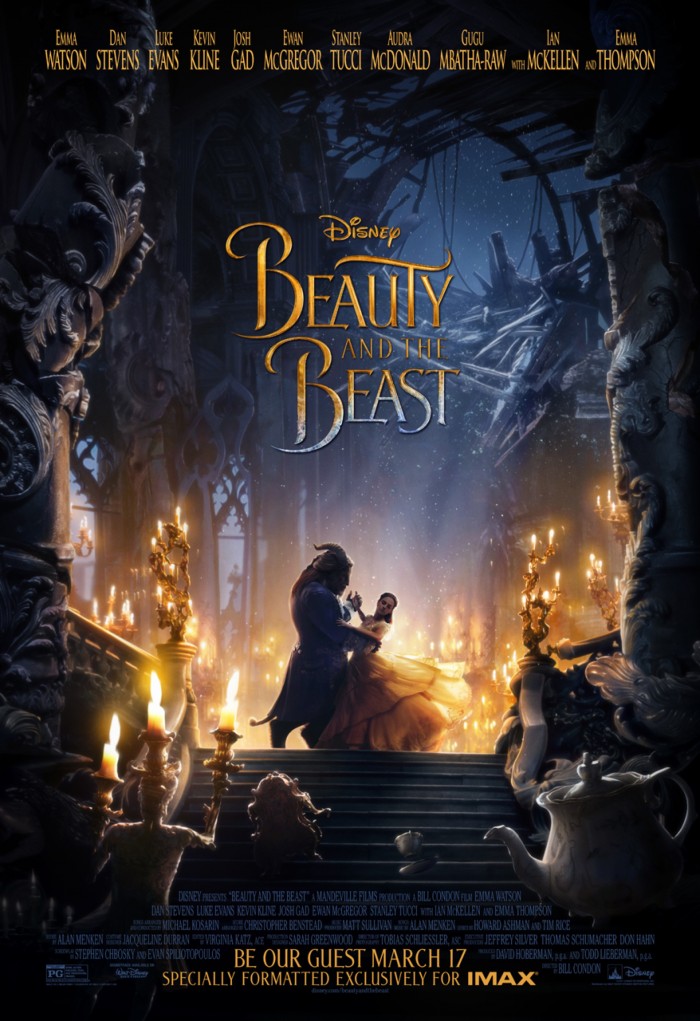 Walt Disney Studios Motion Pictures have also announced that they are scheduling special opening night events for "Beauty and the Beast" fans on Thursday, March 16 at approximately 590 locations nationwide.
The events, which are taking place ahead of the 7:00pm showings at theaters with IMAX®, Dolby Cinema® and other select premium large formats, will give fans the opportunity to be among the first to experience the highly-anticipated live-action film and will include special behind-the-scenes on-screen content and the only opportunity for in-theatre audiences to see Ariana Grande and John Legend's music video for their Beauty and the Beast duet.
The 500 theaters include participating AMC, Regal, Cinemark, Marcus and Wehrenberg theaters, as well as Disney's trademark El Capitan Theatre in Hollywood. Each theatre circuit will be offering special concession stand promotions and commemorative give-away's celebrating the film and the event. Tickets for the "Beauty and the Beast" opening night fan events are on sale now and available through www.BeOurGuest.com/fan-events/.
Beauty and the Beast will hit theaters on March 17th, 2017.