'Stranger Things' Season 2 ''Opens Up The World,'' Teases David Harbour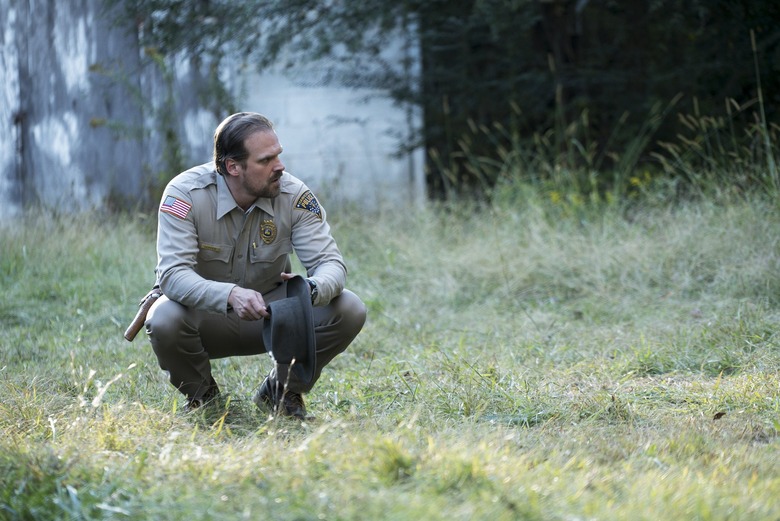 Stranger Things can't come back soon enough, especially after David Harbour's rousing SAG Awards speech vowing to "shelter freaks and outcasts," "hunt monsters," and "punch some people in the face." Alas, we've still got a while to wait, as the show isn't expected to return for several months yet. But Harbour's doing what he can to get the hype train going. The actor confirms he's read the first script of Stranger Things season 2, and teases some "thrilling" plot developments to come. Vanity Fair caught up with Harbour in the wake of Stranger Things' big weekend, where it took home top prizes at both the SAG and PGA awards shows. The whole thing is worth reading if you were into his SAG speech; among other things, he doubles down on his belief that "anyone who advocates genocide or any sort of extermination of an entire race of people, you know, probably does deserve a punch in the face."
But he also touches a bit upon Stranger Things season 2. While he's careful not to spoil any plot details, Harbour is more than happy to talk about how excited he is for the second season:
I got the first script of season two, and the first five minutes I was on my feet going, 'Yes! Yes!' Because they open up the world in such a new way. And these characters that I feel like are so iconic, and that we love so deeply, get to really go on different arcs and different journeys and explore these little things that we touched on in their personalities and psychologies. And we get to really expand on that... I really do think it's going to be thrilling. And you can tweet at me that I'm an idiot if it's not.
His statements echo the ones recently given by executive producer Shawn Levy, who described season 2 as "bigger and potentially darker." What exactly that means, I guess we'll just have to wait and see. But Harbour has previously spilled a bit about the overall premise of Stranger Things season 2:
It's a year later in the story, so there are several things that happened last year, like Will has come back. There are certain people in the town that know what happened, and then certain people that don't know what happened. So there's a lot of fallout with who knows what.
Those so inclined can surely also dig up some more clues in the character descriptions and episode titles revealed so far. And those, like me, who tend to be kind of lazy about those parts of fandom can just kick back and watch Harbour's SAG Awards speech again. It's that good, and definitely worthy of every memeworthy facial expression on Winona Ryder's face throughout.
What a passionate speech by @DavidKHarbour on behalf of the @Stranger_Things ensemble! #StrangerThings #sagawards pic.twitter.com/EhTMXNsOTx

— SAG Awards® (@SAGawards) January 30, 2017