Watch The First Three Minutes Of 'Rings'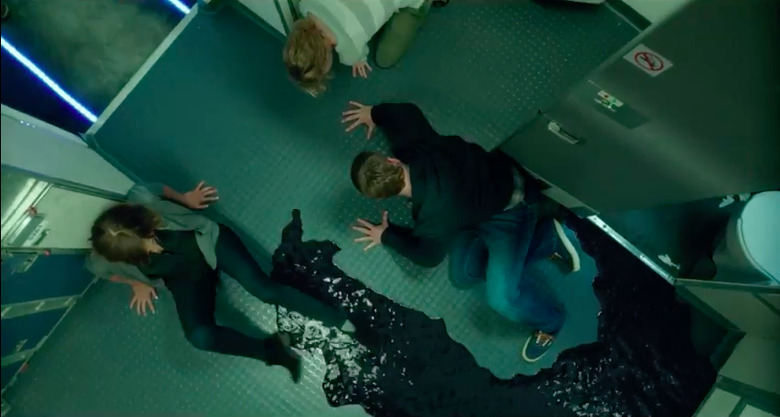 Rings' release date has been kicked around more times than a soccer ball. Okay, maybe not that many times, but four delays is telling. Originally scheduled to open in the fall of 2015, the sequel then got moved to spring 2016, and then it got bumped back again to the autumn of 2016. That last release date didn't work out, either, so director F. Javier Guitérrez's horror film is finally coming out this Friday. Days before Rings  hits theaters its heavily promoted plane sequence has made its way online.
Below, watch the first three minutes of Rings.
Rings was originally described as a prequel, following a journalist investigating the haunted VHS tape. Guitérrez's film was going to "tell the origin of Samara's reign of terror," but the actual film takes place 13 years after The Ring Two, the highly underwhelming sequel to Gore Verbinski's unnerving remake of the Japanse horror film, Ring.
In the sequel, Julia (Matilda Lutz) sacrifices herself for her boyfriend, Holt (Alex Roe). She watched the videotape that kills whoever watches it seven days later. Julia then discovers there's a video within the video. Rings co-stars Johnny Galecki, Aimee Teegarden, Bonnie Morgan, and Vincent D'Onofrio co-star. The always busy Akiva Goldsman (Winter's Tale) co-wrote the script.
The First Three Minutes Of Rings
The plane sequence has been featured prominently in the marketing for Rings. The three minutes from the scene doesn't raise or lower expectations for Rings. It's what's expected:
And here's another Rings clip, which features Samara's famous warning:
It's been almost 12 years since The Ring Two came out. The Naomi Watts-led and the Verbinski-less sequel made around $90 million less than 2003 remake, despite doubling its opening weekend in the states. Probably for a variety of reasons, the sequel, which was still financially successful, didn't have legs like Verbinski's film, which opened to $15 million and went on to make close to $130 million in the states. It seems doubtful Rings will capture some of the magic of the 2003 film and keep this series going alive and well, but we'll what happens see this upcoming weekend.
Here's the synopsis:
A new chapter in the beloved RING horror franchise. A young woman becomes worried about her boyfriend when he explores a dark subculture surrounding a mysterious videotape said to kill the watcher seven days after he has viewed it. She sacrifices herself to save her boyfriend and in doing so makes a horrifying discovery: there is a "movie within the movie" that no one has ever seen before...
Rings opens in theaters February 3rd.