'Lowriders' Trailer Digs Into East LA Car Culture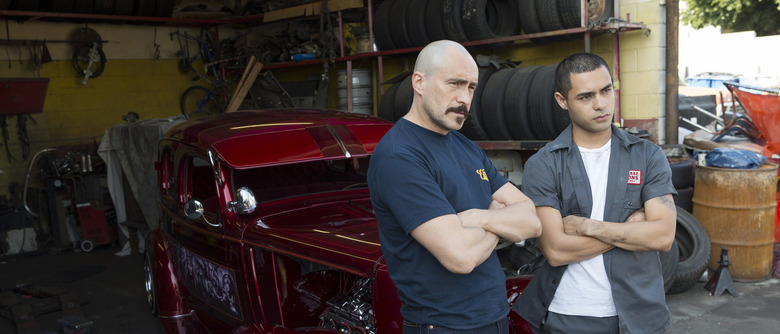 You might remember that a few years ago, Peruvian filmmaker Ricardo de Monteuil made waves with his sci-fi short film The Raven. Not long after, he signed on to direct the coming-of-age drama Lowriders, and today the first trailer for that film has arrived.
War for the Planet of the Apes' Gabriel Chavarria stars as Danny, a Mexican-American teenage graffiti artist growing up among the colorful lowrider car culture of East LA. His dreams put him at odds with his father (Demián Bichir), a garage owner who hopes his son will follow in his footsteps. Also starring are Theo Rossi as Danny's troublemaker brother, Eva Longoria as their new stepmom, and Melissa Benoist and Tony Revolori as Danny's friends. Watch the Lowriders trailer below. 
Lowriders had its world premiere last summer at the LA Film Festival, where it got some promising reactions. Here's Variety:
Much like classic car customization, effective cinematic storytelling is often all about the detailing, and Ricardo de Montreuil's "Lowriders," which sets a tale of inter-generational rivalry and artistic awakening amidst East LA's Latino car culture, has style and local color to spare. A peek under the hood reveals a rather shopworn story that doesn't completely sell its more melodramatic narrative strands, but thanks to a trio of finely calibrated performances, an authentic sense of place and one gorgeously designed red '36 Chevy, the film could get a decent degree of mileage with the proper handling.
The struggle between familial obligation and creative ambition at the heart of Lowriders looks kinda familiar, but the very specific setting makes this one look a lot more interesting than your typical coming-of-age indie. It's not every day we get a film about East LA's Latino car culture, and I also love that the trailer nods to the intermingling of cultures and social circles between the city's various neighborhoods. If you'd like to take this one for a spin, Lowriders is in theaters May 12.
"Lowriders" is set against the vibrant backdrop of East LA's near-spiritual car culture and follows the story of Danny, a talented young street artist caught between the lowrider world inhabited by his old-school father and ex-con brother, and the adrenaline-fueled outlet that defines his self-expression.