What Is Your Favorite Sports Movie?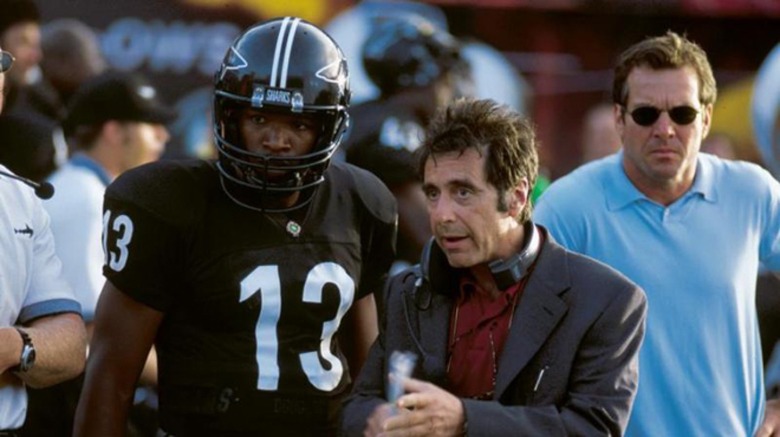 I'm excited to introduce a new feature on /Film called "/Answers" where the SlashFilm.com staff answers a question each week. In honor of the upcoming Super Bowl 51, we thought no better way to start this off with the questions of "What is your favorite sports movie?" I will say this much about the /Film team's favorite sports movies: it isn't as limited to football and baseball as you might expect. Six out of the ten picks are from other sports.
And of course, this isn't just about us; it's also about YOU. We want to hear your thoughts on our picks as well as your personal favorites in the comments below.
The movies below are presented in alphabetical title order: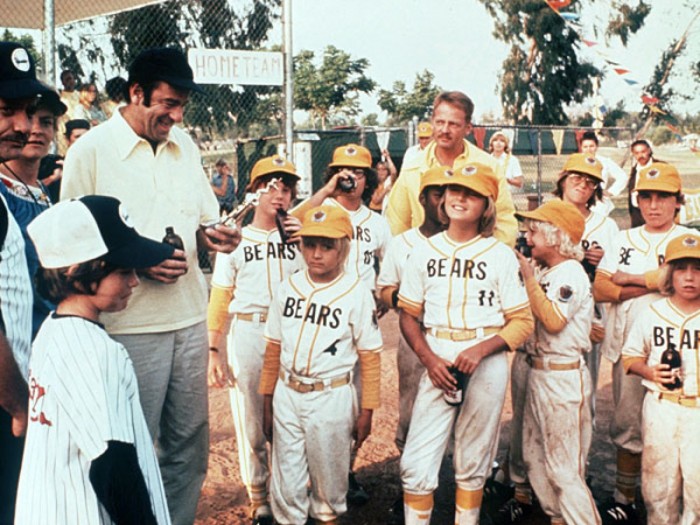 Jack Giroux: The Bad News Bears
Michael Ritchie's '76 classic has an edge, spirit, and beauty we rarely see in comedies, let alone ones starring kids. Coach Buttermaker is a deeply flawed man. He's not a coach to look up to, and he's not always sober enough to give a rousing speech, but he's always real and, at times, moving, thanks to Walter Matthau beautiful performance. How he communicates Buttermaker's transformation is understated and touching. We see he's a better man by the end of the movie, and we learn that from watching Matthau in the dugout during the dramatic and rousing final game, not Buttermaker telling the kids how much they've taught him. Ritchie's sports film isn't one driven by cliches.
The Bad News Bears is a movie with heart, laughs, and an unforgettable ensemble. While some sports movies leave you struggling to remember more than a few teammates, that's not the case with this team. The kids are naturals, and each one brings something distinct to the table. They're hilarious underdogs who see triumph in a loss.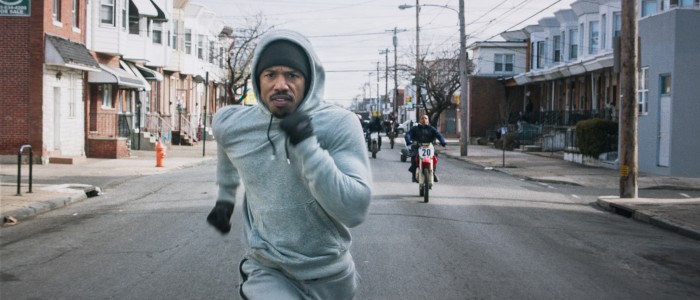 Angie Han: Creed
I've never been much of a sports person or even much of a sports movie person. I'll be honest: there are a ton of classics I haven't even gotten around to watching, simply because they don't really appeal to me. True, Angel in the Outfield was my very first favorite movie as a kid, but it was and remains a rare exception, and my interest in that film had little to do with the sports-y aspects, anyway. But not long ago, I finally found a sports movie that I unabashedly love as an adult.
Creed is a direct descendant of Rocky, and it works for a lot of the same reasons that its predecessor did. Like Rocky, it's less about the sport and more about the guy who loves it; like Rocky, it centers around a determined young lead you can't help but love. But it also serves as an affectionate snapshot of a very particular time and place; a sensitive portrait of modern masculinity (especially black masculinity); a thoughtful examination of inheritance and legacy; an elegy for a fading superstar; and a monument to the irrational but irresistible passions that drive us. Oh, and it's capped off with a boxing showdown so intense, it almost made me think I liked watching boxing. What else could I possibly ask for from a sports movie?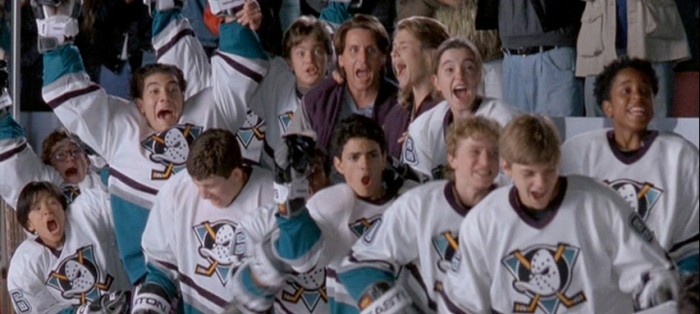 Ethan Anderton: D2: The Mighty Ducks
I don't have a passion for sports as an adult, but as a kid, I was all about movies like The Sandlot, Space Jam, The Mighty Ducks, Rookie of the Year, Angels in the Outfield and Cool Runnings. As a kid who was obsessed with basketball (thanks to the proximity of the six-time champion Chicago Bulls and their star player Michael Jordan, I even loved movies that probably weren't appropriate for my age like Blue Chips, and White Men Can't Jump. But no movie has stuck with me as much as D2: The Mighty Ducks.
Sure, this is your standard goofy, Disney sports movie geared towards kids with easy lessons to be learned and saccharine inspiration to be doled out in troves. But this is still a great sports movie. You've got a coach (Emilio Estevez) who's even more down on his luck than the first time he had to coach a group of scrappy, inexperienced hockey players. But this time his team has the talent to take on the world, literally, along with some promising newcomers, each with their own unique set of skills.
With one of the most triumphant scores ever in a sports movie (not to mention one of the best uses of Queen's "We Will Rock You"), and an exciting climax that rivals any childhood sports favorite (even showing up some more mature titles in the sports genre), D2: The Mighty Ducks is a treasure. This is one that I've never gotten sick of and never will.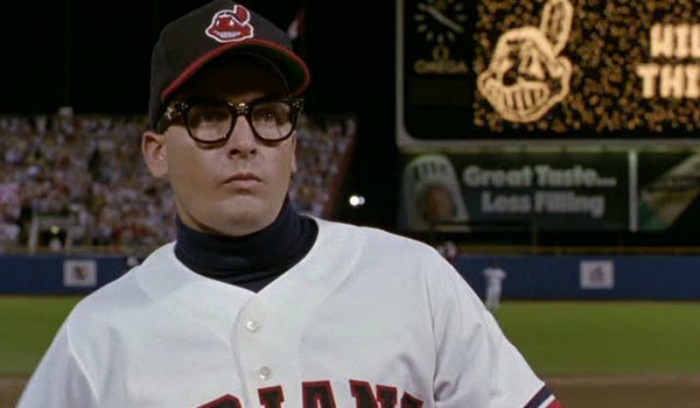 Blake J. Harris: Major League
As a teenager, especially during those gawky years, there was hardly a weekend when I didn't watch Major League. To me and my circle of wannabe athlete friends, that movie was just perfect. Was there anything better than Rick Vaughn approach the mound with "Wild Thing" blasting? Or Willie "Mays" Hayes' graceful larceny on the base paths? The funny thing is that growing up, watching it over and over, I thought that what I loved about that movie was all the exciting on the field action. But in retrospect–especially as someone who now writes behind-the-scenes business stories–I think it was the off-the-field intrigue and the fictional front office's outside-the-box thinking that made it my everything. In fact, I can't help but wonder if Moneyball was actually just a result of Billy Beane watching MAJOR LEAGUE one too many times...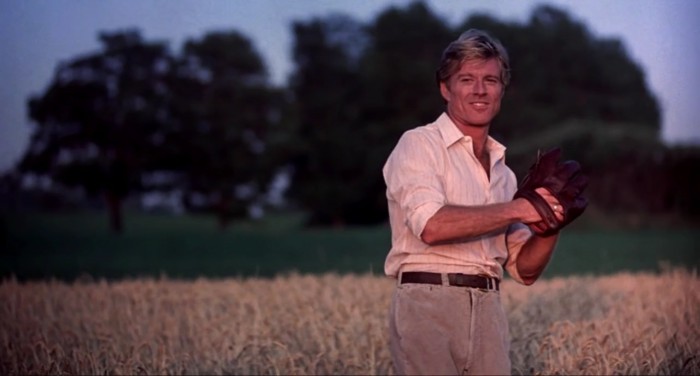 Jeff Cannata: The Natural
So many great sport films to choose from, it's difficult to pick just one. I love Rudy and Hoosiers and the original Rocky and really could have picked any one of those. But ultimately, I have to go with The Natural.  Strangely, of the big three major sports, football, basketball, and baseball, I find myself least interested in watching baseball, but there is no doubt America's Pastime makes for compelling subject matter for films. The singular one-on-one face off of a pitcher and a batter is inherently dramatic. And no baseball film makes the triumphant swing of a bat feel more magical than The Natural.
Also, as a comic book nerd and super hero junkie, I can't ignore the fact that The Natural is structured more like a super hero film than a traditional sports film, complete with a supernatural origin story and iconic symbol. I remember watching The Natural with my parents as a young boy and crying my eyes out as Redford's home run ball shattered all lights in the stadium, and the sparks came cascading down. It is a scene that still gets me today. It's equal parts impossible magic and uplifting wish fulfillment, both aspirational and inspirational. With the state of the world these days, it might do me good to go watch it now.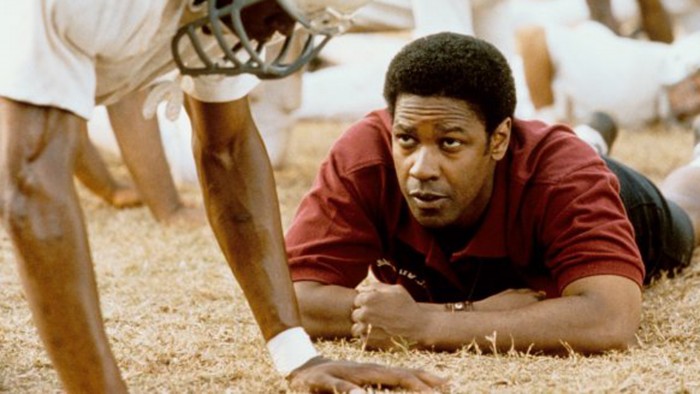 David Chen: Remember The Titans
Sports movies are catnip to me, and Remember the Titans is a quintessential one. It has pretty much all the main ingredients you could possibly want in an underdog sports film. Incredibly charismatic coach figure played by an awesome actor (Denzel)? Check. Highly dysfunctional team that must overcome differences to work together? Check. The team's struggle somehow represents some broader societal issue (racism)? Check. A beautiful, soaring score (by Trevor Rabin)? Check. An excellent ensemble cast who have easily visually identifiable characteristics? Check.
To this day, the music from the film still inspires me, and I can't think of "left side, strong side" without getting something in my eye.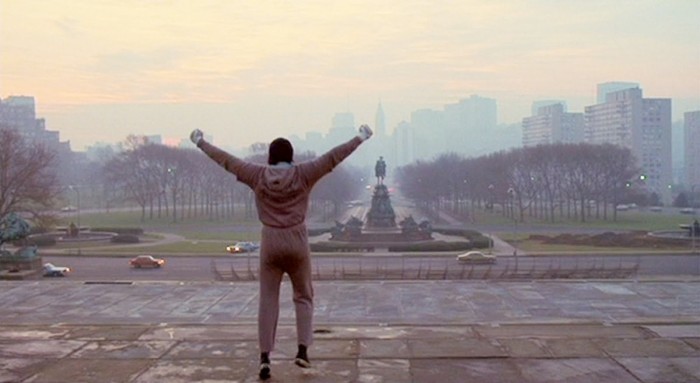 Jacob Hall: Rocky
I don't watch sports to see which team can score more points and I don't watch sports because I'm interested in a particular league or team (unless they're the San Antonio Spurs). I watch sports because they are drama incarnate – this is what happens when the forces of humanity and nature collide. The results rarely have the structure of a screenplay. They contain twists writers would deem implausible. Miracles can happen. Dreams can be shattered. It's all so thrilling because it's a little messy.
Rocky isn't a great movie because it paints an exceptionally accurate portrait of what it's like to be a boxer. I wouldn't know. It's a great movie because it paints an exacting portrait of what it's like to be a sweet, dim-witted loser living in Philadelphia and looking on the bright side of a lousy economy because you have a new girl in your life and the chance to simply share the stage with the best of the best. This is what the sequels and the imitators lost: Rocky isn't a sports movie first and foremost, but a sweet and warm character study about a guy whose passion just-so-happens to involve the capacity to take a couple of dozen jabs to the skull and not hit the mat.
And that's why there's so little actual boxing in Rocky, the greatest of all boxing movies. Two men trading blows in the ring is interesting if you like statistics or have money riding on the outcome. But two men with hopes and dreams and backgrounds and complex motivations trading blows in the ring because the results can change their destiny forever? That's drama. That's why I watch sports. Rocky gets that. And that's why Rocky Balboa manages to lose that big fight with Apollo Creed and have a happy ending. And that's why Rocky is the best of the best.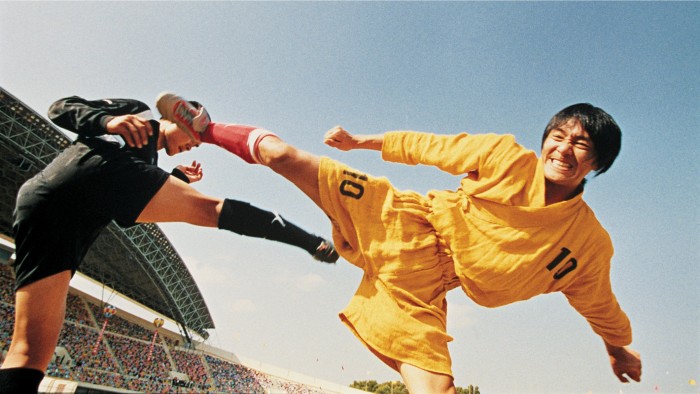 Devindra Hardawar: Shaolin Soccer
I've enjoyed lots of sports films, but there have been few I've loved as much as Stephen Chow's Shaolin Soccer. It's not just a sports movie — it's a slapstick comedy, it's a special effects extravaganza, and it has some great action cinematography. It covers the typical underdog arc you expect, but most importantly, it does it in a way that's truly unique. Shaolin Soccer is one of those rare films that has something for everyone. It's the perfect gateway for Stephen Chow's mad genius.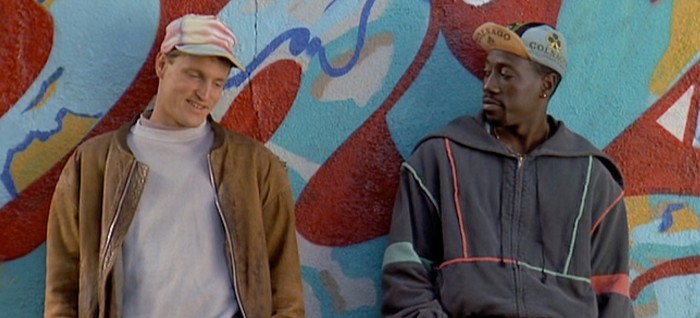 Christopher Stipp: White Men Can't Jump
Writer/director Ron Shelton has made some great sports films. Starting with 1988's Bull Durham, he showed the great prowess of understanding how to balance showing the actual sport being depicted, connecting emotionally with why people compete like they do, while weaving in fascinating characters at the center of it all. He would later give your parents a solid outing with 1996's Tin Cup but, for me, his zenith would come in 1992.
I would classify White Men Can't Jump as one of the best sports films in my own personal canon. The chemistry alone between Woody Harrelson and Wesley Snipes is unmistakable as they share great comedic moments and moments of intensity. The story (excusing the whole gangster sub-plot) was far more interesting than other sports films that focus on "the big game" or the "main event" as the entire movie feels like an exploration on drive and the heartbreaking things self-destructive people can do to those around them. The film showed that Woody Harrelson was more than the goofy bartender from Cheers and that Wesley Snipes possessed an unmistakable charm that he can turn off and on at will. I never tire watching these guys play off one another.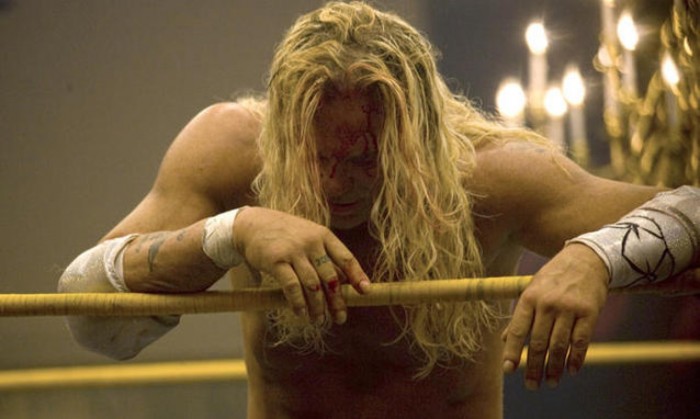 Peter Sciretta: The Wrestler
For the most part, I hate sports. Attending games in person can be a fun time, but watching them play out on live television is torture for me. But that doesn't mean I don't love sports movies and TV series. Among my favorites are Hoop Dreams, Any Given Sunday and the television series Friday Night Lights. If I had to pick a favorite it would be Darren Aronofsky's 2008 film The Wrestler. In the late 1990's I was a huge wrestling fan and I even ran one of the first pro wrestling news websites called WrestleNet. The attitude era was a great time to be following sports entertainment, everything somehow felt more real and interesting.
It has been a long time since I've watched wrestling on a regular basis but I still find the behind the scenes of that world to be insanely fascinating. I don't think there has been a film that captures the world of wrestling more perfectly than The Wrestler, which is a more intimate look at what happens to an aging wrestler who is no longer in the spotlight. I'd also recommend the documentaries Beyond The Mat and Hitman Hart: Wrestling With Shadows, the former features a segment on Jake The Snake Roberts which feels like inspiration for Aronofsky's film, and the latter shows the behind the scenes of one of the biggest shoots in pro wrestling history.
What Is Your Favorite Sports Movie?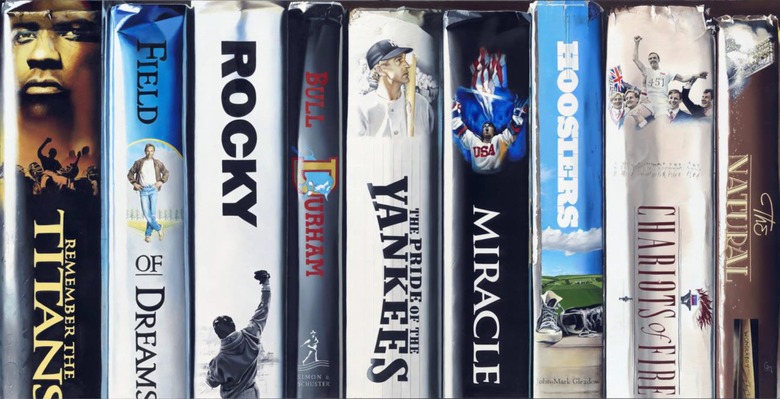 What do you think of our picks? What is your favorite sports movie? Leave your thoughts in the comments below!