Cool Stuff: Ghostbusters, Fictional Food, Walking Dead, 1990's Nickelodeon And Star Wars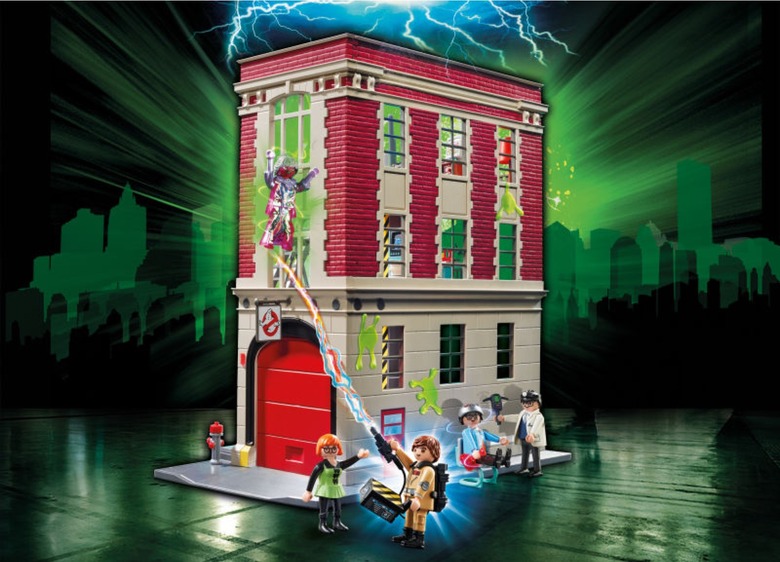 Cool Stuff if your nerdarific pop-culture filled holiday shopping guide published all year round. In today's edition of Cool Stuff we take a look at Playmobil's new line of Ghostbusters toys, McFarlane's Walking Dead Daryl Dixon On Bike resin statue, Joshua Budich's Fictional Food 2 screenprints, Big Bobett Holiday vinyl figure, 1990's Nickelodeon Funko Pop figures and a magnetic floating U-Wing ship statue from the standalone film Rogue One: A Star Wars Story.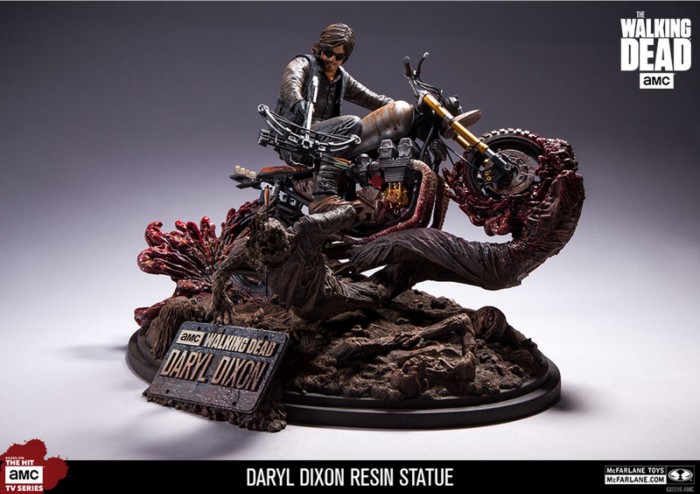 Walking Dead Daryl Dixon On Bike Resin Statue From McFarlane
I'm not a fan of The Walking Dead but I know many of you are. McFarlane Toys is releasing a cool statue featuring Daryl Dixon.
Daryl Dixon is a skilled hunter, fighter, tracker, and mechanic whose talents have made him one of the most valuable individuals to the group, and have saved him and his companions on many occasions. The Walking Dead Daryl Dixon Resin Statue embodies the intensity of Daryl Dixon as an individual using everything to his disposal, even his motorcycle, to fight and survive.
Not only has his savvy for staying alive meant a chance to fight another day, but also made him an instant fan favorite on AMC's hit television series The Walking Dead. With acute attention to every detail from head to tail pipe, the Daryl Dixon resin statue was created, developed, and designed by Todd McFarlane, and his award-winning McFarlane Toys design group, in conjunction with AMC. A welcomed addition to McFarlane Toys line of limited addition resin statues, Daryl Dixon comes as the first statue featuring AMC's The Walking Dead! Statue measures over 14-inches wide x 12-inches deep x 10-inches tall! Daryl comes with an alternate head with sunglasses, a certificate of authenticity and is individually numbered!
This will be released in February or March, but you can preorder now on Amazon.
Joshua Budich's Fictional Food 2 Art Show
Last week, Gallery 1988 in Los Angeles opened a new art show: "Fictional Food 2 – Back for Seconds!". Joshua Budich has returned with more art inspired by fictional food and beverages from popular movies and television shows. Here is a selection of some of the available prints, starting at only $10 on the G1988 website.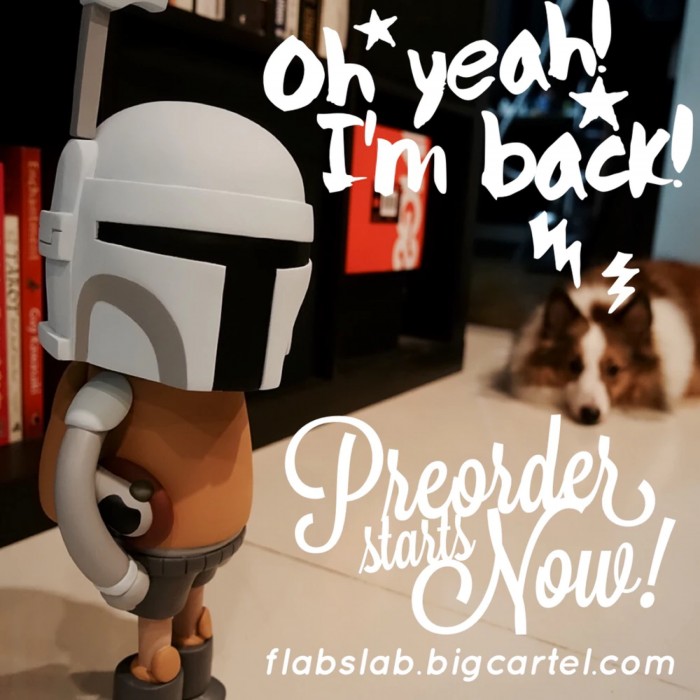 Big Bobett Holiday Special Figure
Flab Slab is teaming with Wetworks to release the Big Bobett figure in his Holiday suit.
Big Bobett [Holiday Special] stands 13.5 inches tall with his viewfinder and comes with a little toy that looks like his handbag. Note that each hand painted piece might have very slight blemishes due to the resin material.
Available for preorder for $280.00.
Playmobil's New Ghostbusters Toys
Playmobil has finally revealed their line of Ghostbusters toys, and they look incredible. Now if only I had a child as an excuse to buy these. The toys include:
ECTO-1 featuring working lights and movie-authentic sound effects (powered by a trio of AAA batteries), a removable roof allowing figures to be placed inside, and silicon slime splatters that can be stuck all over the vehicle, and Playmobil versions of Winston Zeddemore and Ghostbuster version of Janine Melnitz equipped with tiny proton packs, traps, and PKE meters. $45
Ghostbusters Firehouse playset stands 18 inches tall with a garage large enough for Ecto-1 to park inside. Includes Playmobil versions of Raymond Stantz, Louis Tully, Egon Spengler, and an office version of Janine Melnitz, in addition to ghosts that can be locked away in the Ghost Containment Unit. $70
Stay Puft Marshmallow Man is eight inches tall, includes Raymond Stantz figure who comes with a proton pack and a pair of Ecto-Goggles. $20
Slimer with Hot Dog Stand set comes with snack accessories like hot dogs, hamburgers, condiments, and drinks. $18
Venkman and Terror Dogs set comes with a Dana Barrett-possessed-by-Zuul figure. $13
Spengler and Ghost set comes with two glow-in-the-dark ghosts and proton pack and ghost trap accessories. $8
90's Nickelodeon Funko Pops
Star Wars U-Wing Magnetic Floating Version Vehicle
This Beast Kingdom Previews Exclusive Rogue One: A Star Wars Story U-Wing floats in the air above its themed base.
With the anticipation of Star Wars fans around the globe, Beast Kingdom announces the Star Wars: Rogue One U-Wing Magnetic Floating Version Vehicle – Previews Exclusive... the world's first floating U-Wing, unveiled before the release of Rogue One: A Star Wars Story. The vehicle utilizes unique electromagnetic attraction and repulsion principles to recreate a U-Wing that floats in the air above its themed base! Requires 8x "AA" batteries, not included.
Coming in April 2017, you can preorder now for $179.99.