'The Lego Batman Movie' Vehicles: See The Batwing, Bane's Truck, Scarecrow's Gyro-Copter & More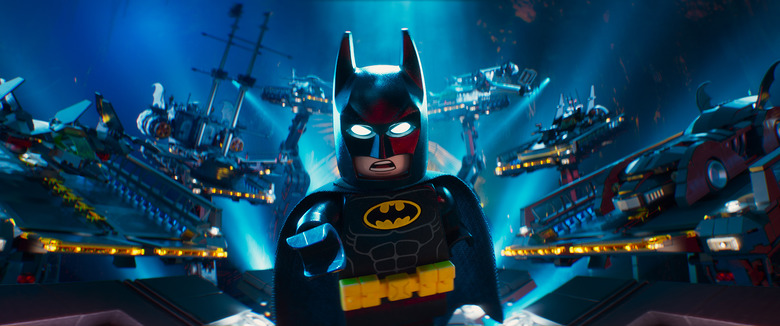 The Lego Movie was a heartfelt love letter to the magic of play, a celebration of all the creativity and joy that these tiny plastic building blocks have brought to children and adults around the world for decades upon decades. But it was also an excuse to sell lots of Lego toys. Because who says you can't be totally sincere and make lots of money at the same time?
In a similar vein, The Lego Batman Movie looks like an affectionate nod to the Caped Crusader and his storied history – his various personalities and personas, his weird quirks and inconsistencies, his colorful friends and foes — but also like a really good opportunity to promote some new Lego Batman toy sets. Lego has just released new images featuring a bunch of new vehicles and villains, including the Batwing, Harley Quinn, Bane, and Two-Face. Check out the Lego Batman vehicles below.
The Hollywood Reporter got the first look at the new Lego Batman vehicles.
The first and probably most exciting of these sets is the Batwing ($89.99). According to the site, it features "an opening dual minifigure cockpit with translucent-yellow windshield, rotating boosters, adjustable wings for flight and landing modes, two spring-loaded shooters, two disc shooters, opening rear compartment with a small car (with a minifigure seat) inside, and translucent light-style elements." The set comes with a Harley Quinn minifig, who brings along a six-stud rapid shooter cannon. Also along for the ride are Batman and Robin minifigs.
Next up is the Two-Face Double Demolition ($59.99), which comes with, you guessed it, a Two-Face minifig. Batman and two Gotham City Police Department officers are also included. The set consists of two vehicles. One is an excavator with a good side and a bad side, which also features a "minifigure cabin, removable roof and opening weapon storage compartment with a pistol, four huge wheels (two with spikes on the 'bad' side), operational excavator arm and bucket, articulated design for smooth steering, six-stud rapid shooter, rotor blade and rear storage compartment." The other is the Batcycle.
Then there's the Bane Toxic Truck Attack ($49.99), which has three minifigs: Batman, Mutant Leader, and Bane. Actually, the Bane minifig isn't so mini — he looks like the size of a couple of regular minifigs — but fortunately the architects at Lego have taken that into account and his ride is big enough to hold him. The Toxic Truck has "six big wheels with rear-four-wheel suspension, mounted adjustable six-stud rapid shooter with target-sighting element, and a detachable translucent-green toxic tank element." The set comes with Batman's Whirly-Bat, so he won't be left sitting alone in the dust.
Last but not least is the Scarecrow Fearful Face-Off ($14.99), which consists of Batman and Scarecrow minifigs and the Scarecrow's Gyro-Copter. The vehicle has "top and rear spinning rotors, an adjustable rudder, two bomb-drop functions and three translucent-green fear gas bomb elements."
All the toy sets are based on The Lego Batman Movie, so presumably we'll get a better look at all of these sweet rides when the film hits theaters February 10. The sets will be unveiled at Toy Fair New York later that month, before hitting shelves in June.
In the irreverent spirit of fun that made The LEGO Movie a worldwide phenomenon, the self-described leading man of that ensemble—LEGO Batman—stars in his own big-screen adventure. But there are big changes brewing in Gotham, and if he wants to save the city from The Joker's hostile takeover, Batman may have to drop the lone vigilante thing, try to work with others and maybe, just maybe, learn to lighten up.