Which Actors Turned Down Roles In 'La La Land'?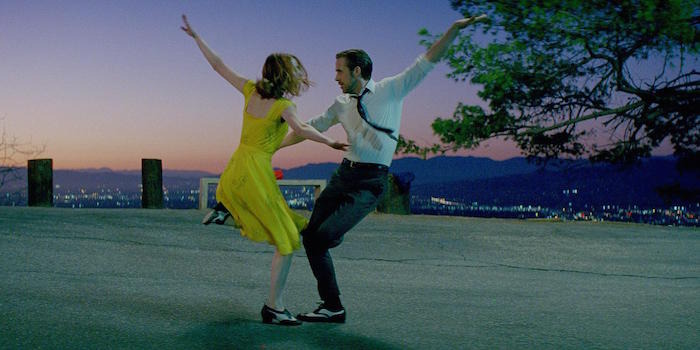 La La Land has somehow ended on top of the heap for the annual award season. The film has earned a historic 14 Oscar nominations, tying it with previous 14-time nominated films All About Eve and Titanic. And the gossip papers are now reporting that some actors are angry that they didn't take part in Damien Chazelle's now-hit musical. Which actors turned down roles in La La Land? Find out after the jump.
Before we get to the unconfirmed claims of gossip rags, we should note that both of these actors were previously confirmed to have been circling the film. Miles Teller and Emma Watson were originally attached to La La Land before Emma Stone, and Ryan Gosling came along. In fact, we even posted about the casting back in 2014.
Teller, who starred in Chazelle's previous film Whiplash was in the deal phase to star in La La Land. The actor told Esquire in 2015 that he received a call from his agent, saying:
"'Hey, I just got a call from Lionsgate. Damien told them that he no longer thinks you're creatively right for the project. He's moving on without you.'"
But Hollywood Reporter claims that's not how it went down. According to the Hollywood trade paper, Teller was holding out for more money than the offered $4 million deal, and as negotiations faltered, Teller's window of availability began to close. Teller would have needed to train as a pianist for weeks before the August 2015 shoot started but was scheduled to shoot the Divergent sequel Allegiant around that time.
The reason why Emma Watson left the project was reportedly because "she waffled over the time commitment and instead opted to do the live-action Beauty and the Beast for Disney."
Now New York Posts' gossip section Page Six claims that Teller held out for $6 million and that when Watson was offered the lead female role, she began making crazy demands, like "rehearsals for the film must be done in London — for a movie called 'La La Land!' They jumped through hoops to make it work with her, but she just didn't feel the film was right for her." According to the paper, both Miles and Emma are "raising hell with their agents for not securing the roles for them — even though it was the actors' fault for being too demanding."
Of course, Page Six's reporting should be taken for what it is, but it seems to add up to the previous reporting from the Hollywood trades. I know if I were the actors I would be upset about having blown the chance at being in one of the most critically acclaimed films of the year.