'Kingsman: The Golden Circle' Will Feature A Deleted Scene From The Original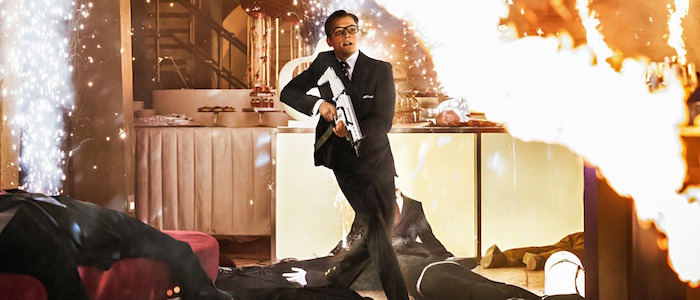 Kingsman: The Secret Service was one of 2015's most pleasant surprises, an ultra-violent James Bond riff with an anarchic streak a mile wide and a penchant for shocking reversals. Not even that truly awful second-to-last scene could derail one of the most spirited action movies of the past few years. It's good! My only real concern about the upcoming sequel is that it won't find a way to top the sheer, bloody insanity of the first movie.Kingsman: The Golden Circle is due out later this year and outside of an impressive cast and the return of director Matthew Vaughn, details have been kept under wraps. However, we do know that the next movie will find a way to utilize a scene that was cut from the first film.
Speaking with Den of Geek, star (and bottomless well of charisma) Taron Egerton spoke about how pop star Elton John has a role in The Golden Circle, which leads him directly to a more interesting tidbit:
Matthew knows and likes Elton, and knows that he brings something that fits the tone of the Kingsman world. I think I can say that there's a deleted scene from the first one, that I personally thought shouldn't have been cut, and that's now in the second film. But what it is... I don't think I can say.
As the interviewer notes, John had a role (as himself) in an early draft of the first film's script. Does this imply that he shot a cameo for the first film, was cut for whatever reason, and that this scene will now re-surface in part two? Considering Egerton's train of thought in the quote above, that would certainly make sense.
But Elton John is only one member of an ensemble that deserves a second look. The great Julianne Moore will play the film's villain, while Jeff Bridges, Halle Berry, Channing Tatum, and Game of Thrones and Narcos star Pedro Pascal playing members of the American spy agency "The Statesman." Mark Strong and Sophie Cookson are set to return alongside Colin Firth, with the latter's mere presence demanding some kind of explanation.
And before we get out of here, Egerton says that a third Kingsman movie isn't in the works yet, but it's certainly a thing that could happen:
Matthew is a very much 'Don't count the chickens before they've hatched' kind of guy, but he also has a real sense of Kingsman being his baby and he won't jeopardise it with a crap idea. So it depends what occurs, and whether it feels right to him, but I don't think for a second that either he or myself, the lovely people at Fox and whoever else is interested in Kingsman, wouldn't completely love it if this is a continuing series.
Kingsman: The Golden Circle is due out in theaters on October 6, 2017.