Paul Thomas Anderson's New Movie Has Begun Filming [UPDATED]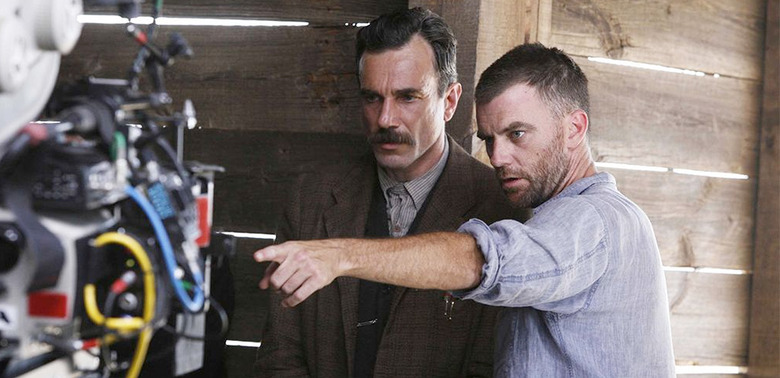 UPDATE: Focus Features has officially announced the start of production on Paul Thomas Anderson's untitled movie and their press release includes this plot description: "The new movie is a drama set in the couture world of 1950s London. The story illuminates the life behind the curtain of an uncompromising dressmaker commissioned by royalty and high society." There is no release date, but the film will be released later this year. The original article follows below.
We don't even know the title of Paul Thomas Anderson's new movie and it already feels like an event. First of all, it's a Paul Thomas Anderson movie and any time the director of Boogie Nights, Magnolia, and The Master decides to make a new movie, it's time to celebrate. Second of all, this film will reunite him with the infamously picky and famously masterful Daniel Day-Lewis, who hasn't made a movie since winning his third Oscar for 2012's Lincoln. Either of these by themselves would be a reason to keep this one on your radar, but a full-fledged There Will Be Blood reunion makes this one of the most exciting projects to come together since...well, There Will Be Blood.
The first photos from the set have arrived and while they don't shed too much light on this mysterious project, they do reveal Day-Lewis and Anderson one again sharing the same space and that is enticing enough.
Cigarettes and Red Vines has rounded up the photos and you should click on that link if you want to check them out for yourself (we're not in the mood to get sued, thank you very much). What we do see is Day-Lewis, looking snazzy with his '50s clothes and silver hair, wandering through an English cemetery. It's not much! But it's something! Anyway, it seems like filming began in Lythe and has since moved on to Robin Hood's Bay, both in North Yorkshire, England.
Here's what we do know about this mysterious project: the film will "will once again explore a distinctive and surging milieu of the 20th century through the new movie – the couture world of 1950s London." Anything beyond that is conjecture at this point, including the rumors that Day-Lewis is playing a character inspired by fashion designer Charles James. We do know that Megan Ellison's Annapurna Pictures is on board as a financier (Ellison will serve as a producer) and that Focus Features and Universal will distribute the film, which doesn't have a release date yet (although it may arrive as early as this year).
Anderson seems be picking up speed in recent years. He may have waited five years after Punch-Drunk Love to deliver There Will Be Blood, but the wait was worth it. And he may have waited another five years to bring us The Master, but the wait was, once again, worth it. It then only took him two years to get Inherent Vice in theaters and one year to bring us Junun. Now, cameras are rolling on this one and it's only been two years since we saw our last Anderson movie.
Are we entering Paul Thomas Anderson's busy phase? I certainly hope so.