Unused 'Jurassic Park' Storyboards Reveal A Deleted Alternate Ending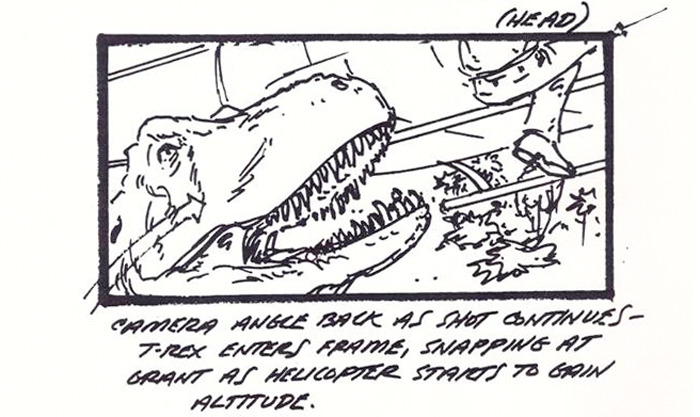 Jurassic Park has some of the most memorable action adventure sequences ever put to film. From the tyrannosaurus rex attack to the velociraptor pursuit in the kitchen, the movie is filled with some extremely thrilling sequences. But there was one more action sequence that we never got to see in the final cut of the movie.
A batch of Jurassic Park storyboards recently surfaced online that show there was once a plan for quite a different action sequence for the film's finale. Originally, there was a sequence planned that involved a helicopter rescue with the tyrannosaurus rex nearly stopping the chopper from getting off the island.
Check out the storyboards for the Jurassic Park alternate ending below.
Here's the storyboarded sequence unveiled by the Facebook fan page Jurassic Time:
The above images were posted on Facebook with this information accompanying it:
From Phil Tippett's Jurassic Park Early Sequence Storyboard Binder, here is a first-look at the rare storyboards for a thrilling helicopter rescue sequence set to be at the film's finale. This is an early look of the first version (Version A) of the sequence, and was not scripted at this stage immediately after Crichton's final draft. It later became adapted into Malia Scotch Marmo's screenplay, but with numerous alterations.
Though we never saw a sequence like this in Jurassic Park, we did end up getting a helicopter action scene in Jurassic World. But unlike the happy ending seen in the storyboards above, that sequence didn't end all that well for Simon Masrani (Irrfan Khan), and it didn't feature a t-rex attacking the chopper. Maybe we'll see a sequence like this end up in Jurassic World 2.