'Newness' Review: Drake Doremus' Sexy, Raw Portrait Of Love In The Age Of Tinder [Sundance]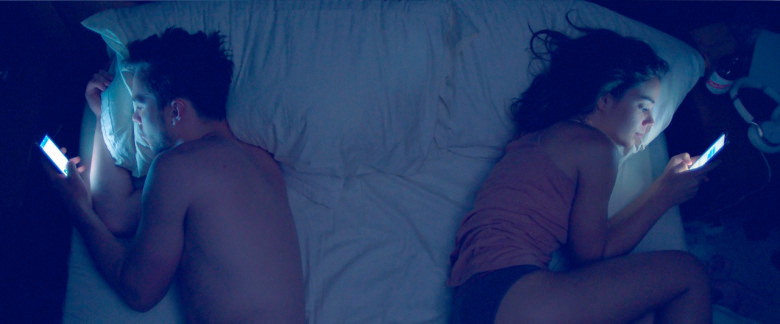 Back in 2011, director Drake Doremus made a splash at the 2011 Sundance Film Festival with his indie romance Like Crazy, which won the Grand Jury Prize in the U.S. Dramatic category. Since then, his films Breathe In and Equals haven't really reached the same level of praise. But with his latest work behind the camera that hit the 2017 Sundance Film Festival, Doremus makes a valiant, respectable effort in his creation of a new honest portrait of love in the age of Tinder.
Newness focuses on a couple twentysomethings (Nicholas Hoult and Laia Costa) who meet through a Tinder-style app called Winx. Both had a couple failed hooks-ups, and they decide to have a late night rendezvous with no strings attached. But after spending some time together, and eventually having sex, they fall for each other. That's the kind of story that has been used to take up a whole hour and a half story, but for Newness, it's just the first 15 minutes. For the rest of the movie, Doremus digs a little deeper.
Read on for our full Newness review.
Though Martin (Hoult) and Gabi (Costa) quickly fall in love with each other, the more mundane aspects of a committed, stable relationship start to set in. One night Martin and Gabi both cheat on each other, and while an emotional fight erupts between them when they each admit to their indiscretion, rather than breaking them up, it's the catalyst for sparking an open relationship.
At first, it seems like Doremus' movie is making a strong case for how hook-up culture assisted by social media has changed the face of romance. Martin and Gabi get off on hearing about each others' sexual exploits, they watch each other flirt with potential partners, and then they go home together and have their own erotic fun. But like most real life open relationships, the fun isn't meant to last, and these two have some growing up to do.
Nicholas Hoult and Laia Costa help make Newness more enthralling than your average romance on the rocks, if only because of their raw, emotionally charged performances. Each time the couple gets into a huge fight, it makes you feel uneasy, like you're watching two of your best friends fighting in front of you. There's yelling and tears accompanied pure desperation and pain in their eyes, and it's all very effective.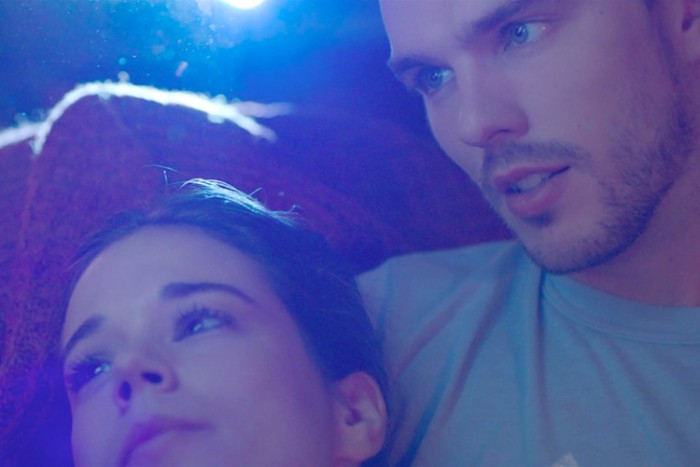 Though Doremus doesn't necessarily bring anything profound to the table when it comes to his approach to relationships for the millennial generation, his film is sincere enough to be quite compelling. The cinema verite style of this romance adds to its sincerity, thanks to cinematography by Sean Stiegemeier, who never shies away from getting up close and personal from our leads, moving organically and freely in scenes, not unlike our lead characters in their relationship. This includes the extremely erotic sex scenes that frequently happen between them.
The score by Keegan DeWitt and Gwilym Gold adds a modern twist along with the subject matter. When the relationship is lively and working, the movie is powered by bumping, electronic beats, but there's also a somber, touching side with a perfectly placed piano theme during the movie's more touching moments.
The only shortcoming in Newness is that despite its authenticity, it's not necessarily the most accessible feature. With leads like Nicholas Hoult and Laia Costa at the center, we're looking at two characters who have no problem finding someone to hook up with on hook-up dating apps. But if these two were your average young man and woman, it might not be so easy. That might feel more like a superficial observation, but the ease with which these two find other partners can make it slightly difficult to feel sorry for them, even in their most desperate times.
In the end, Newness isn't quite as good as Like Crazy. But it serves as a solid companion romance, exploring the appeal of open relationships when we have the potential of someone new and exciting just a finger swipe away. It's a story about understanding what it means to choose who you truly love instead of always being on the lookout for the next best thing.
/Film Rating: 7.5 out of 10