'Behind Enemy Lines' Is Becoming A TV Series At FOX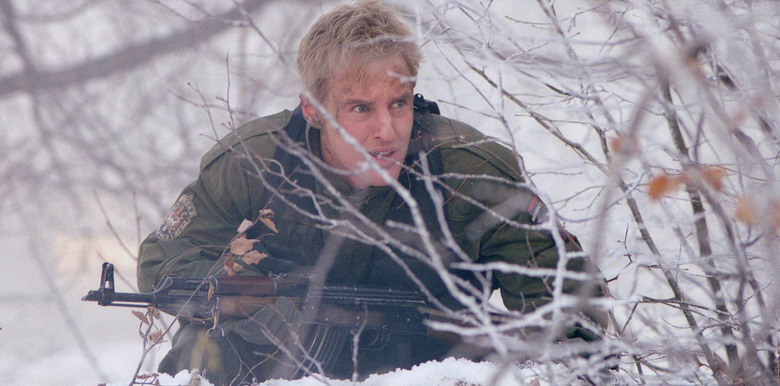 More fuel for the reboot and remake fire that is burning strong in Hollywood has just arrived, this time from the battlefield of big screen war drama.
Back in the early 2000s, Owen Wilson quickly rose to fame thanks to roles in films like Shanghai Noon, Meet the Parents, Zoolander, The Royal Tenenbaums and Behind Enemy Lines. The latter didn't really help Wilson broaden his career as an action star in addition to being a gifted comedy actor, but now it could serve as the spark of a new TV series at FOX.
Find out more about the Behind Enemy Lines TV series after the jump.
Deadline has news that FOX has ordered a pilot for a TV series loosely based on the Behind Enemy Lines. That's right, in case you didn't know, there was a batch of Behind Enemy Lines sequels that all went straight-to-DVD. The first film starred Owen Wilson as a Navy navigator who is shot down over enemy territory, but the sequels that followed focused on different military teams being stuck facing enemy forces at various locations such as North Korea, the Congo and Colombia. The show won't have any ties to those movies though.
The series adaptation follows the same basic premise of each film in the franchise in that it "closely follows our soldiers on the ground, and the officers and service men and women on a nearby aircraft carrier, along with intelligence officers in DC as they attempt to bring our heroes home safely and under the radar."
The Behind Enemy Lines TV series is being described as "distinctly patriotic," joining shows like Shooter that are aiming for the heartland with their American hero programming. However, this isn't necessarily coming together as a result of the recent trend of patriotic programming on the works for TV, because Fox has been trying to get a Behind Enemy Lines TV series together since the last TV season.
Tackling the show behind the camera will be Charlie's Angels director McG, who has been set to direct the pilot as part of his deal at 20th Century Fox Television. John Davis, who produced the original film, will be executive producing the TV series along with John Fox, Wyck Godfrey at Temple Hill, and Bates Motel writer Nikki Toscano, who is also scripting the series adaptation.
This is one of those TV series adaptations that doesn't feel all that necessary or particularly compelling, but maybe it can do something interesting with such a basic premise. We are in a new golden age of TV right now, so anything is possible.