'Harry Potter' And 'Alien' Star John Hurt Has Died At 77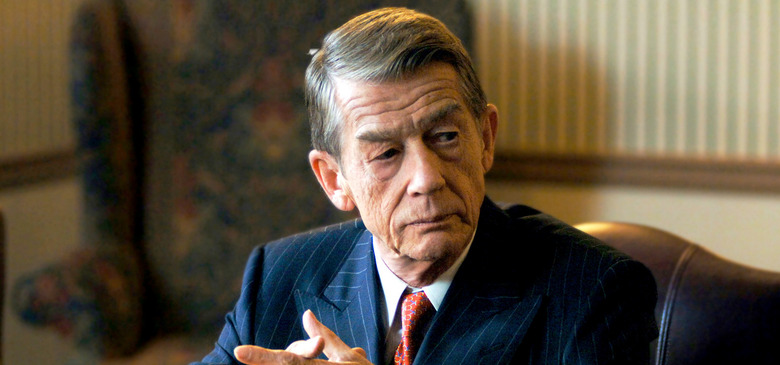 With a career spanning over 55 years, John Hurt was one of the best actors to come out of the United Kingdom. But sadly, the Oscar nominee who has done everything from blockbuster franchises to Shakespearean theater has left us far too soon.
After celebrating his birthday just five days ago, Sir John Hurt has died at 77 years old, as confirmed by the actor's publicist Charles McDonald late last night. We remember John Hurt and his decorated career below.
News of John Hurt dead wasn't accompanied with an official cause of death (via Variety), but the actor was diagnosed with pancreatic cancer in the summer of 2015, and it seems as if that battle finally took the ultimate toll on him.
In his early life, Hurt trained to become a painter, but after being accepted into the Royal Academy of Dramatic Art, he found a love for acting on the stage in the 1960s. Around that same time, he began a career on screen with some small roles on television, but quickly landed his first film role in the drama Young and Willing. He continued to make appearances on TV throughout the 1960s before landing his first major role in A Man for All Seasons in 1966, which ended up winning Best Picture that year.
To try and sum up the career of John Hurt would be impossible, having over 200 credits to his name on film and television. But some of his more memorable roles include his supporting role as a Turkish prison inmate in Midnight Express in 1978, and just two years later he took the lead as the titular disfigured gentleman John Merrick in The Elephant Man in 1980. Both of those roles landed him Oscar nominations, while the former also earned him a Golden Globe win.
John Hurt may be best known for playing Kane in Alien, who met an unfortunate end in the famous scene where a xenomorph bursts through his chest (a role he would reprise to great comedic effect in Spaceballs). Hurt also memorably played wandmaker Garrick Ollivander in the Harry Potter franchise.
Other key film roles include V for Vendetta, Snowpiercer, History of the World: Part I, Hellboy, Indiana Jones and the Kingdom of the Crystal Skull, Melancholia, and more recently Hercules and Jackie. Plus, Hurt was also the voice of Aragorn in the animated Lord of the Rings movie from 1978. Healso continued to start in television even after his film career took off, appearing on shows like Merlin, The Confession, Watership Down and even a single episode of Saturday Night Live back in 1997.
Hurt was acting right up until his death. There are three films that are completed and awaiting release (AKA Nadia, The Final Reel, That Good Night), two films in post-production (Damascus Cover, My Name is Lenny) and one that was filming (Darkest Hour). It's not yet clear what Hurt's final appearance on screen will be, but clearly we have a few more movies to enjoy the gravitas he brought to the big screen in every role he took, no matter how small.
Our thoughts go out to John Hurt's family and friends during this difficult time. Rest in peace.