This Fan-Created Star Wars Roller Coaster Is The Best Star Wars Theme Park Ride Ever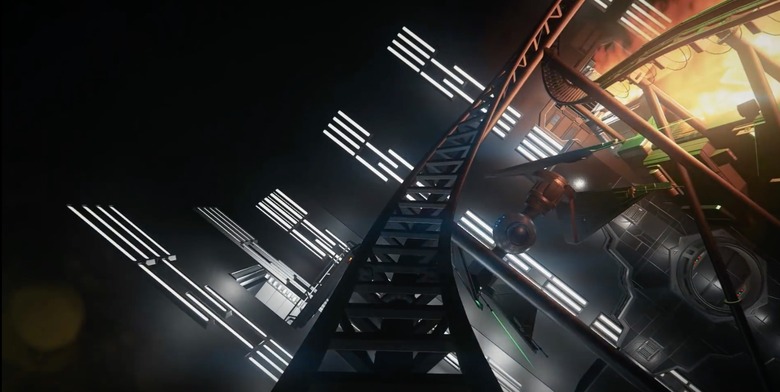 Right now if you want to ride a Star Wars themed theme park attraction, your choices are limited between Star Tours: The Adventures Continue and Hyperspace Mountain, Season Of The Force's retheme of Disneyland's Space Mountain. But the mouse house is quickly building Star Wars themed lands in both their Orlando and Anaheim-based parks. But we're still a couple years away from the grand opening, at earliest.
But today we bring you a fan-created Star Wars roller coaster is cooler than any of the Star Wars rides that exist in the real world, and it'd very possible it could be better than anything in Star Wars Land (I'd be happy to be wrong but the sheer size and cost of this simulation is tough to beat). Watch a video of the Star Wars roller coaster after the jump.
Guitar Covers Inc created this Star Wars roller coaster in the PC game Planet Coaster. It's basically a complete redesign of Hyperspace mountain, an indoor in the dark roller coaster with a Star Wars theme. The coaster, which he calls Star Wars: Death Star Strike, re-creates the attack against the Death Star from Star Wars: A New Hope.
Released by Frontier Developments, Planet Coaster is an amusement park simulator which allows players to design their own roller coasters. It basically looks like RollerCoaster Tycoon on crack. I've wanted to play it for some time but unfortunately, it isn't available for Mac. Guitar Covers Inc notes that the queue line scenery takes you into a Rebel hidden base to give us a peek at how x-wings and rebels ships are made.
"I built my own Starspeeder 3000 inspired from Disneyland Paris. The whole thing looks more of a Starspeeder 0.333 than a Starspeeder 3000 but that's enough for me at the moment. I know the queue line is long, but I had to deal with the underground coaster."
The ride footage begins at the one minute and fifty-second mark, and watch until the epic ending climax. I wish this Star Wars roller coaster was real and that I could ride it.