'Imperial Dreams' Trailer: No, John Boyega's Indie Drama Is Not About The Galactic Empire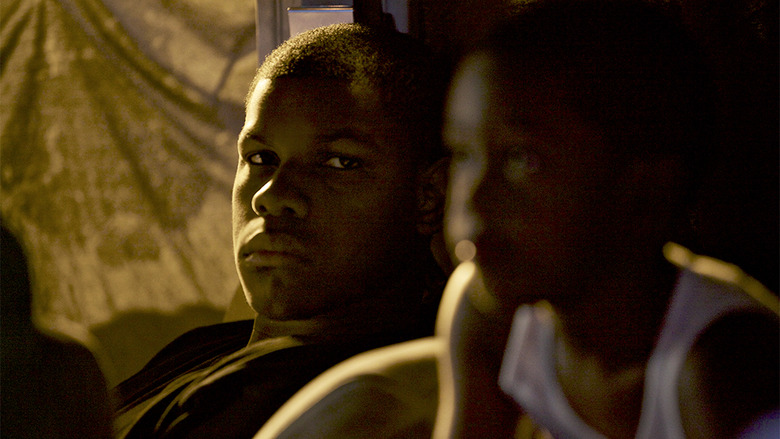 In between his breakout turn in Attack the Block and his even bigger breakout turn in Star Wars: The Force Awakens, John Boyega racked up a number of smaller, more low-profile projects. One of those was Imperial Dreams, which debuted at Sundance all the way back in 2014. Directed by Malik Vitthal, the gritty drama stars Boyega as a young ex-con who wants a better life for his son. And no, despite the title, it has nothing to do with the Galactic Empire.
Although it earned some positive buzz at the fest, the film's sat on the shelf all these years. But now it's finally headed for release thanks to Netflix, and you can watch the first Imperial Dreams trailer below. 
It's not clear why it took Imperial Dreams so long to come out, but the delay will probably end up working in the film's favor. In 2014, Boyega was an up-and-comer best known for the cult hit Attack the Block. Now, thanks to Star Wars, he's one of the most recognizable young stars on the planet. Imperial Dreams will get to capitalize on his newfound fame, attracting audiences who otherwise might not have given the film a second look.
And those who decide to check it out may be glad they did. Indiewire called Imperial Dreams "one of the most overlooked gems" of Sundance 2014, and THR singled out Boyega for special praise:
British actor Boyega seems to have an innate feel for the setting, taking on the role of Bambi with genuine empathy for the character's situation. His rapport with the young actors playing Bambi's son is especially poignant, particularly when nearly their entire existence is relegated to the back and front seats of a broken-down sedan curbed on a dead-end street in the Watts housing projects.
Imperial Dreams will be on Netflix February 3.