'Sicario' Sequel Plot Details Revealed; Taylor Sheridan Has Idea For Third Film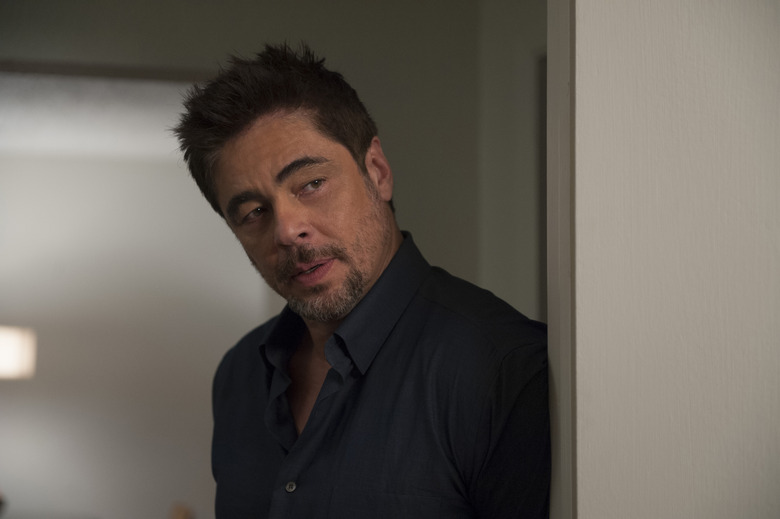 Emily Blunt isn't returning for the Sicario sequel, titled Soldado (translation: soldier). Kate Macer (Blunt) has an arc which is completed by the end of the film, but some people were still understandably disappointed we won't see this world any longer through her eyes. With director Stefano Sollima's sequel, writer Taylor Sheridan (Hell or High Water) wants to ask: Without a chaperone, how bad do Alejandro (Benicio Del Toro) and Matt (Josh Brolin) get?
Below, the Academy Award-nominated screenwriter discusses the Sicario sequel.
Sheridan recently made an appearance at the Sundance Film Festival for the premiere of his directorial debut, Wind River, which stars Jeremy Renner and Elizabeth Olsen. While promoting the film, he told Collider what's next for Matt and Alejandro:
One of the producers called me and said, 'If you were to do a sequel, how would you do it?' and when he first brought it up I thought,' Well of course you're asking me.' And then I had an idea, and I said, 'Look you can't really do a sequel, but I sure would love to see what happened if these guys didn't have a chaperone.' Because basically they're operating within the United States, so I played with some actual laws that exist and found a way that they could operate more or less legally within the U.S. But they had a chaperone. What happens if they weren't in the U.S. and they didn't have a chaperone? How bad or good would that work out? You've seen Sicario, good isn't going to factor into it too much.
Sheridan added:
I would say if Sicario is a film about the militarization of police and that blending over, this is removing the policing aspect from it.
Before shooting even begins on the sequel, there have already been talks of making a trilogy. Sheridan does have a story in mind for another film:
Who knows? I know what it would be if they did. I know exactly what it would be if they did.
Sollima has previously said the sequel, which co-stars Katherine Keener as Matt's boss, is more about immigration than drugs, perhaps making the sequel more relevant. Sheridan knows Soldado's story is oddly timely, and it sounds like the screenwriter has plenty more to say with the sequel. The more we hear about this follow-up to Sicario, the more appealing it sounds.
We don't know when Soldado may start shooting. As we wait for more details, we can continue to look forward to Sheridan's directorial debut, which our own Ethan Anderson found impressive. "Wind River has enough thrills and suspense to satisfy, even if it doesn't hold up to the quality of Taylor Sheridan's previous work as a screenwriter," Ethan wrote in his review of Wind River. "At the very least, Sheridan shows great promise as a filmmaker with his directorial debut."