Maisie Williams Teases Rough Times Ahead In 'Game Of Thrones' Season 7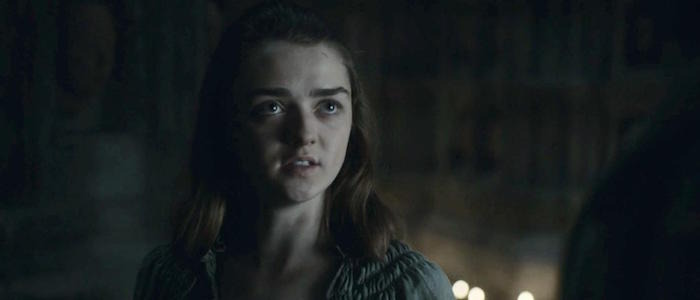 While Game of Thrones season 6 was home to its fair share of horror and misery, it was downright merciful compared to previous seasons, allowing many of the main characters to actually get on the path leading toward their future goals (instead of, you know, pushing them off the path with a bloody bludgeon comprised of war and intrigue). In a new interview, series star Maisie Williams, who plays the increasingly dangerous and weary Arya Stark, pretty much says we can expect the same thing from season 7 – we'll see some victories, but also some crushing defeats.
Speaking with ITV's This Morning, Williams hinted that the conflict that went full-boil last season will really start to bubble over this year and that Arya's storyline will run the gamut:
This year it really kind of heats up. Particularly for Arya, there's some really high points... there's some really low points, too.
Season 6 (spoiler alert, but c'mon, why are you reading this if you're not caught up?) featured Arya finally returning to Westeros and claiming vengeance against Walder Frey, but only after barely surviving assassin school and taking a knife to the gut and being forced to live as a temporarily blind beggar on the streets of Braavos for a little too long. If season 7 features higher highs and lower lows, then we are really in for some whiplash. We can safely assume that everyone else's end-of-season victories will be challenged as well. After all, Jon Snow, Cersei Lannister, and Daenerys Targaryen are literally positioned for open war at the moment.
In slightly more heartwarming news, Williams also spoke fondly of Sophie Turner, who plays Sansa Stark on the series. While their characters haven't shared a scene since the first season, they've literally grown up together doing this show:
It's been really wonderful to have someone else who is my own age, and who also was just plucked out of seemingly normal life with no sort of acting background. It's nice to sort of have her going through this industry... someone else who completely gets it. She's like my big sister...
Aww. HBO hasn't set a premiere date for Game of Thrones season 7 yet, but it's expected to air this summer. And maybe the next book will arrive as well?
You can watch the whole Maisie Williams interview in the video below.