'Guardians Of The Galaxy Vol. 2' Score Preview: Hear The First Bit Of Music From The Marvel Sequel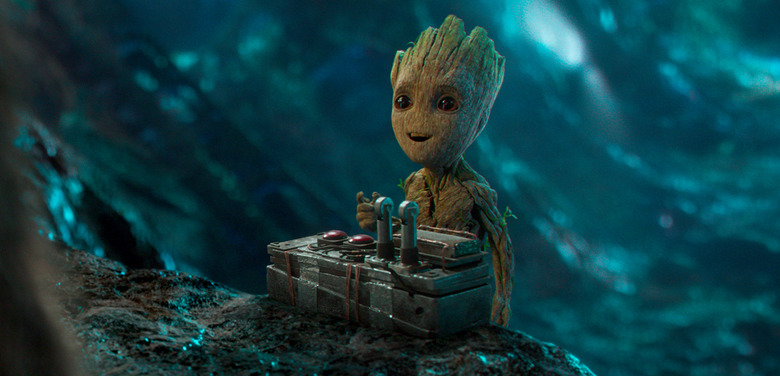 It seems like every week we get a new look at something or someone in Guardians of the Galaxy Vol. 2, but today we've got a little something to listen to. Director James Gunn has shared the first snippet of the score from his upcoming Marvel sequel, which was once again composed by Tyler Bates. Listen to a Guardians of the Galaxy Vol. 2 score preview below. 
Gunn and Bates shared the Guardians of the Galaxy Vol. 2 score preview live from Abbey Road on Facebook.
The first snippet from the Guardians of the Galaxy Vol. 2 score seems to lean into the "more emotional" side of the new movie. It also sounds really epic, which makes me wonder if this could come from a big moment in the third act. Maybe it's got something to do with that father-son relationship between Chris Pratt's Star-Lord and Kurt Russell's Ego the Living Planet.
The Marvel movies haven't really been known for their great scores (an interesting video essay from a few months ago looked into why that might be), and it's too soon to tell whether Vol. 2 will reverse that trend or become another competent but forgettable entry in the Marvel music library. But it sounds good, for now, and that's a promising start. As in the first film, Bates' orchestral score will be complemented by familiar classic pop and rock tracks.
Guardians of the Galaxy Vol. 2 is in theaters May 5.
Set to the backdrop of 'Awesome Mixtape #2,' Marvel's Guardians of the Galaxy Vol. 2 continues the team's adventures as they traverse the outer reaches of the cosmos. The Guardians must fight to keep their newfound family together as they unravel the mysteries of Peter Quill's true parentage. Old foes become new allies and fan-favorite characters from the classic comics will come to our heroes' aid as the Marvel cinematic universe continues to expand.