'Ultimate Beastmaster' Trailer: Sylvester Stallone Produces Netflix's Riff On 'American Ninja Warrior'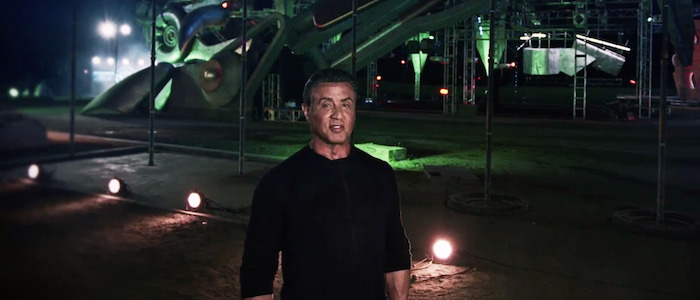 When I first saw that Sylvester Stallone was executive producing a new Netflix series called Ultimate Beastmaster, I thought it made perfect sense that a tough guy like him would put his weight behind a new version of the 1982 fantasy adventure film The Beastmaster, which was later adapted into a television series that ran from 1999 to 2002. But I was way off, because Ultimate Beastmaster isn't a sword and sorcery epic, but rather Netflix's attempt to get in on that sweet "skilled athletes participate in punishing physical challenges for our couch-bound amusement" business. You can watch the first trailer below.
If you've channel-surfed at some point in the past decade, you've seen something like Ultimate Beastmaster. Maybe it was American Ninja Warrior (a spin-off of the Japanese series Sasuke), where some of the toughest people you've ever seen attempt to complete an obstacle course built to test their strength, speed, and endurance. Maybe it was the far sillier Wipeout, which got a surprising amount of traction for essentially being an excuse to watch people fall off slippery things for seven seasons.
Ultimate Beastmaster appears to be very much in the American Ninja Warrior vein, setting itself up as a grueling physical challenge that athletes from around the world attempt to conquer. Stallone himself pops up in the trailer to introduce the concept.
While this concept is very familiar (or borrowed or ripped off, pick your choice of words), Netflix is approaching this from a unique international angle. The first season's 108 competitors represent six different nations and each of those nations will have their own pair of talking heads to provide localized commentary. The official synopsis provides the details:
Ultimate Beastmaster is the first international competition series of its kind with six customized local versions featuring local languages, competitors and hosts from each competing country. Those countries are: Brazil, Germany, Japan, Mexico, South Korea and the U.S, The series is produced by Sylvester Stallone (Creed, Grudge Match) and Dave Broome (The Biggest Loser, Strong).
The 10-episode event series will feature 108 competitors, 18 from each country, in total. Each hour-long episode will feature 12 competitors, two from each country, who will take their shot at running one of the most physically demanding obstacle courses ever devised, "The Beast." At the end of each episode, a 'Beastmaster' will be crowned and in the final episode of the season, the nine individual winners from each episode will compete against each other for the chance for one contestant to become the Ultimate Beastmaster.
And here are the six pairs of commentators who will represent each participating country:
U.S.: Terry Crews (Brooklyn Nine-Nine) and Charissa Thompson (Fox Sports)Brazil: Anderson Silva (UFC Middleweight Champion) and Rafinha Bastos (TV personality)South Korea: Seo Kyung Suk (TV host) and Park Kyeong Rim (actress)Mexico: Ines Sainz (sportscaster) and Luis Ernesto Franco (actor)Germany: Hans Sarpei (soccer star) and Luke Mockridge (comedian)Japan: Sayaka Akimoto (actress), Yuji Kondo (sports anchor)Ultimate Beastmaster will drop on February 24, 2017. To the show's credit, it looks like it could be a ton of simple-minded, macho fun, familiar concept or not.