'Sing' Sequel Set For 2020; 'The Secret Life Of Pets 2' Pushed Back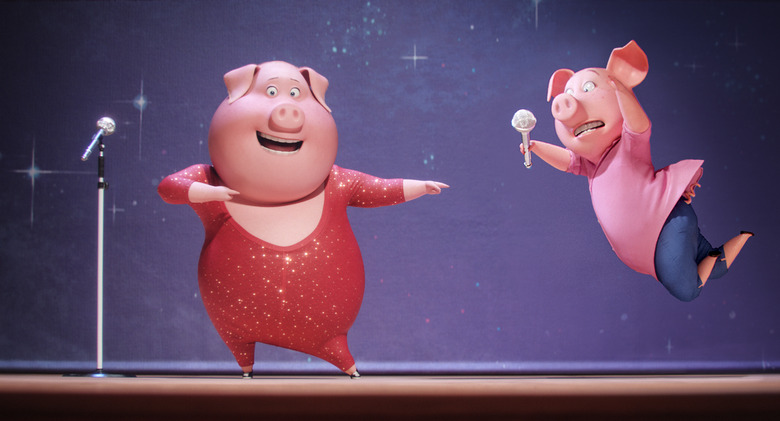 You knew this was coming: Sing, Illumination's "American Idol, but with animals" movie, is getting a sequel. Universal Pictures and Illumination Entertainment have just set the follow-up for Christmas 2020, putting it in the same slot that did so well for the first Sing.
Meanwhile, The Secret Life of Pets 2 is getting pushed back a year to 2018, and Minions 2 is moving up just a tiny bit. 
Sing 2 is scheduled to open December 25, 2020. This far ahead, there are no other films set to open that weekend. However, Sony has Vivo, their animated animal adventure with songs by Lin-Manuel Miranda, debuting one week earlier on December 18. I wouldn't be surprised if one of the studios blinked before we got there. No cast or creative team for Sing 2 has been announced at this time.
The first Sing is still in theaters after opening a month ago, and has racked up $429 million so far. There's nothing really edgy or groundbreaking about the movie, but between its star-studded cast and its fat catalogue of pop covers, it looked precision-engineered to please family crowds and make lots of money.
Moving on, The Secret Life of Pets 2, which was officially announced last summer after the original became a smash hit, has been delayed a year, from July 13, 2018 to July 3, 2019. It has that date all to itself for now, although Spider-Man: Homecoming 2 is due two days later on July 5. The Secret Life of Pets 2 will bring back much of the same creative team from the first film, including director Chris Renaud, writer Bryan Lynch, and producers Chris Meledandri and Janet Healy.
And finally, Minions 2, which was going to come July 10, 2020, has been pushed up by one week to July 3, 2020 — all the better to take advantage of the Fourth of July holiday and to avoid going head-to-head with the untitled Marvel movie on July 10.