'Donnie Darko' Director Richard Kelly Wants To Make A "Bigger And More Ambitious" Sequel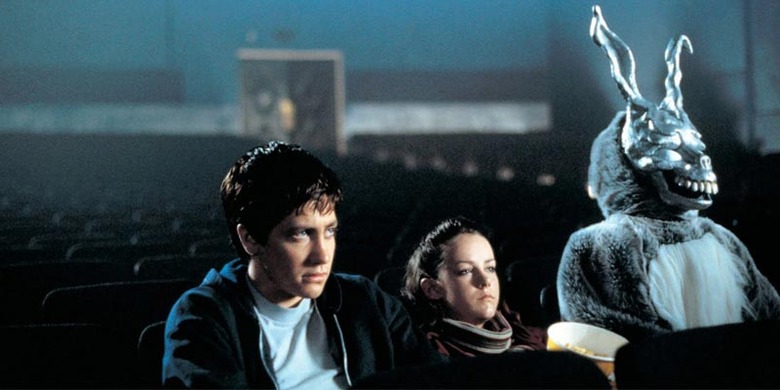 I know what some of you are thinking, didn't a Donnie Darko sequel already happen? Yes, it did. It was called S. Darko, and Donnie Darko writer-director Richard Kelly and Darko Entertainment publicly denounced it . Kelly had no control over the rights of the original film, so the sequel moved forward without his approval. The director and his producing partners didn't even profit from the straight-to-DVD cash grab. Kelly is now interested in a real Donnie Darko sequel, or some "big and expensive" movie set in the Darkoverse, if you will.
Below, read the director's thoughts on a Donnie Darko sequel.
To celebrate the recent 15th anniversary of Donnie Darko, a new restoration of the cult film starring Jake Gyllenhaal is coming to Blu-ray. While discussing the proper restoration with HMV, Kelly talked about the idea of a sequel to his cult sci-fi movie:
I think there's something much bigger and more ambitious to do in that universe. It's big and expensive and I think there's time to get to that. I want to make sure we've got the budget to do it justice and not to compromise anything. Another story in this world needs resources and we need to have that in place.
After S. Darko was released, Bloody-Disgusting ran a rumor claiming Kelly was maybe a part of another Donnie Darko sequel. That story was never confirmed or denied. But making another Darko film, one that sounds more expensive than the original four million dollar indie, has clearly been on Kelly's mind.
It's been over seven years since a Richard Kelly film has hit theaters. His last movie, The Box, is an entertaining, stylish and extremely ambitious studio film that divided audiences and underperformed at the box office. In the years since that Richard Matheson adaptation came out, Kelly has worked on "a lot of different projects," and he plans on directing one of them this year:
I've been working on a lot of different projects. The trouble is they're all very ambitious and expensive so they take a lot of time to get in place. We're being very careful to set things up properly, but I'm planning to make up for lost time and make several movies back to back. It's nice to be able to bring people back to where we started, but I plan to be back behind a camera in 2017.
We've heard about a few of Kelly's projects over the years. The director was going to collaborate with Nicolas Cage on Amicus, a wild true life story about a bizarre and compelling lawsuit. In 2012, Edgar Ramirez signed on to star in Kelly's Corpus Christi. The Robert Rodriguez-produced drama was described as a more grounded film compared to Kelly's other works. We have no idea if the movie he wants to make next is one of those projects or another film set in a futuristic Manhattan, but hopefully, we'll know soon enough.