Naomie Harris Joins Dwayne Johnson In 'Rampage'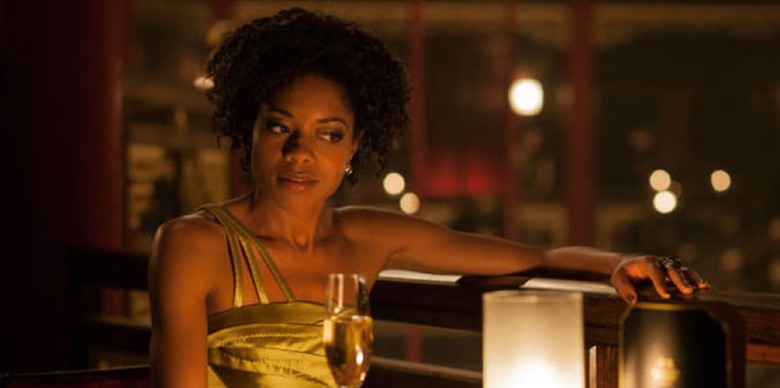 One of this year's Academy Award nominees, Naomie Harris (Moonlight), gets to confront a giant wolf, a giant gorilla, and a giant lizard all in one movie, Rampage. Harris has signed on to star in Brad Peyton's (San Andreas) video game adaptation, based on 1986 arcade game. Apparently, she responded to the "fun" tone of the script, which has been compared to Ghostbusters and Independence Day.
Below, learn more about the Naomie Harris Rampage casting.
According to The Hollywood Reporter, Harris, who also starred in Skyfall and 28 Days Later, is playing a "geneticist with a moral streak," opposite of Dwayne Johnson's animal-loving hero. Johnson has actually spent time at the San Diego Wildlife Preserve and Anti-Poaching Units out of Africa, so he can prepare and ground the movie "in research and authenticity."
Plot details are scarce, but we all get the basic gist of it: Johnson and Harris try to stop a monster-sized wolf, gorilla, and lizard, as they go about destroying landmarks and other cities. The Hollywood Reporter's description suggests their rampage doesn't go down in only one city.
Principal photography was originally expected to begin last summer after Johnson wrapped The Fate of the Furious, but for whatever reason, there was a delay. A year ago, Colony creators, Carlton Cuse (Lost) and Ryan Condal (Hercules), were hired to write a new script, keeping this a true San Andreas reunion. Cuse co-wrote the script for that disaster film, which Rampage producer Beau Flynn also worked on.
San Andreas may not have the most involving story, but it does have plenty of well-orchestrated, albeit emotionally inert, destruction. Peyton's eye for chaos and scale might serve Rampage well, though. He's previously said he wants to turn this silly, fun game into a movie "a lot more real than you'd expect":
With Rampage, we are using our love of the original game as our inspiration. Then we're going to build a movie, like San Andreas, that is really going to surprise people in what it delivers. It's going to be a lot more emotional, a lot scarier and a lot more real than you'd expect.
Hiring an actor of Harris' caliber could certainly help ground a movie with giant animals running amok. Her performance in Moonlight is remarkably natural and present. She's also quite charming and fun in the Bond films, despite how brief her role as Moneypenny sometimes is, so perhaps she'll bring some humor along with a little believability to Rampage as well.
Rampage opens in theaters April 20th, 2018.