'A Cure For Wellness' Clip: Dane DeHaan And Jason Isaacs Face Off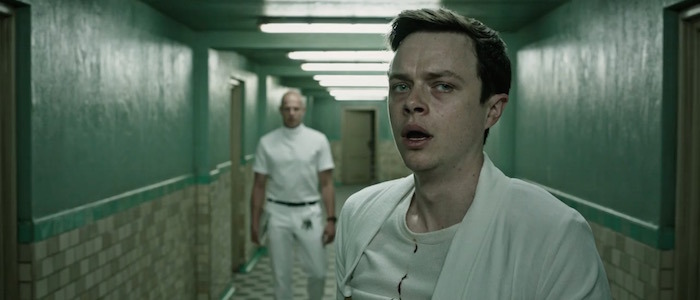 A Cure For Wellness may be a horror movie, but I'm choosing to look at it as a tale of redemption. Redemption for director Gore Verbinski, a truly unique filmmaker who has found himself lost in the blockbuster desert for a little too long. Redemption for star Dane DeHaan, a generally very good actor who fell on his face in front of millions of people when he played Harry Osborn in The Amazing Spider-Man 2. I'm rooting for these guys. And I'm rooting for A Cure For Wellness, because the trailers suggest the kind of deeply weird, atmospheric horror movies that linger longer than typical schlock. So let's watch a new clip from the film, shall we?
The clip finds DeHaan's Lockhart, a young corporate executive who can't seem to escape his company's mysterious "wellness center," looking worse for wear and trapped in a hallway by a few white-uniformed orderlies. Also on hand is Jason Isaacs as Volmer, the head of the facility and a guy who is clearly up to no good.
The last time Verbinski made a straight-up horror movie, we got his 2002 remake of The Ring, which remains one of the most frightening movies to ever open in wide release in the United States. He then turned around and the made still-excellent Pirates of the Caribbean: The Curse of the Black Pearl before getting sucked into the increasingly lackluster sequels. Not even the weird and wonderful (and Oscar-winning) Rango can wash away The Lone Ranger, a film with a few dazzling highs and far too many dizzying lows.
But another horror movie? A psychological horror movie about a creepy clinic in the Swiss Alps where Jason Isaacs is apparently conducting horrible experiments? A Cure For Wellness certainly feels like the Gore Verbinski movie I want to see and I've heard some very good things about the film from its surprise screening at Butt-Numb-Athon last year. Our own Angie Han watched the first 35 minutes and was very intrigued by what she saw:
The first 35 minutes of A Cure for Wellness were more intriguing than exciting. They're a slow burn, and nothing all that weird happened until the end of the footage we saw. Even then, it was more suggestive than outright crazy.
That said, there's an uneasy vibe from the get-go. Something just seems off, even if it's hard to articulate exactly why. There's a Gothic fairy tale vibe to the footage — like Bram Stoker's Dracula, or like one of those Grimm fairy tales before we sanitized them for contemporary children. If you've ever seen a thriller, you know from the moment the main character wakes up with a broken leg at the sanitarium that leaving the place will be easier said than done.
And she also spoke to Verbinski, who explained why he returned to the horror genre:
Well, it's a genre where you get to play with sort of a dream logic. The rules don't apply. We're casting spells on people in a darkened room with sound and picture and music and performance. I wanted to explore this sort of sense of denial and the inevitable and that genre, it's where you get to be a voice. In this case, the voice of disease or sickness. The sense of something, there's a spot on your X-ray. There's a darkness here. In this wonderful place, there's something pulling the camera down a corridor and pulling the protagonist towards his epiphany and you sense that something deeper is driving things
A Cure For Wellness opens on February 17, 2017. Here's the official synopsis:
An ambitious young executive is sent to retrieve his company's CEO from an idyllic but mysterious "wellness center" at a remote location in the Swiss Alps. He soon suspects that the spa's miraculous treatments are not what they seem. When he begins to unravel its terrifying secrets, his sanity is tested, as he finds himself diagnosed with the same curious illness that keeps all the guests here longing for the cure. From Gore Verbinski, the visionary director of THE RING, comes the new psychological thriller, A CURE FOR WELLNESS.