'My Cousin Rachel' Trailer: Rachel Weisz And Sam Claflin Navigate Romance, Revenge, Period Costumes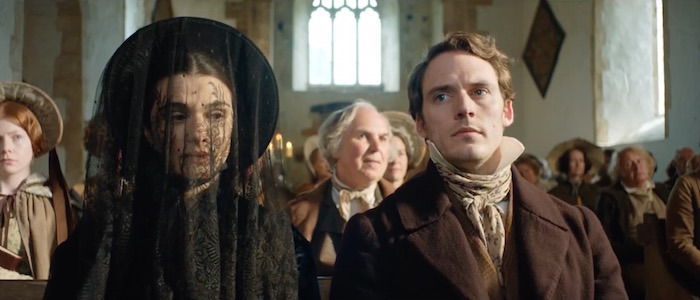 I'd be lying if I said I was familiar with the work of Daphne du Maurier, the English author and playwright who wrote the book upon which director Roger Michell's new film My Cousin Rachel is based. However, I am familiar with several film adaptations of her work and it's quite the track record – her novels and stories have been adapted by master filmmakers like Alfred Hitchcock (the Best Picture-winning Rebecca, the under-seen Jamaica Inn, and the bonafide horror classic The Birds) and Nicolas Roeg (the endlessly creepy Don't Look Now). So as you watch the My Cousin Rachel trailer, it's easy to think "Hey, no pressure, guys."
My Cousin Rachel was previously adapted into a 1952 film starring Richard Burton as Philip Ashley, who believes that his wealthy cousin was murdered by his new wife. Olivia de Havilland played that new wife, who beguiles Philip with her charms, which surely means that she can't be a murderer...right? This new film version finds Sam Claflin and Rachel Weisz stepping into those roles and the trailer is appropriately moody, looking like a quaint chamber piece at first glance while supplying a steady trickle of unease (fueled by a moody cover of "Wicked Games").
And because this is a movie where people speak in British accents, a Game of Thrones actor is present. Hi, Iain Glen.
Roger Michell has spent his career leaping between genres with mixed results, so it's about time that he got around to "murder mystery suspense romance." For me, he'll always be the guy who somehow created the near-perfect late '90s rom-com with Notting Hill before directing Peter O'Toole to one final Oscar nomination with Venus. He also made the ridiculous Changing Lanes and and the awful Hyde Park on Hudson, but no one's perfect.
At the moment, it feels like My Cousin Rachel is getting quietly dumped into theaters during a period when dramas based on 1951 romantic mystery novels won't have much breathing room (June 9, 2017 in the U.K. and July 14, 2017 in the U.S.), which isn't a great sign. But that's a promising cast and a promising premise and I know I'll be finding the time to check it out.
A dark romance, MY COUSIN RACHEL tells the story of a young Englishman who plots revenge against his mysterious, beautiful cousin, believing that she murdered his guardian. But his feelings become complicated as he finds himself falling under the beguiling spell of her charms.