'Green Room' Director Jeremy Saulnier Making 'Hold The Dark' Next For Netflix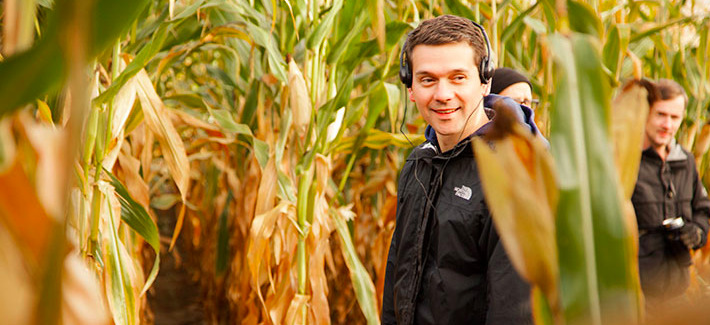 Thankfully, it didn't take director Jeremy Saulnier too long to get his next project up and running. Saulnier is coming off Green Room, a movie seemingly beloved by most people who saw it. Saulnier is following up that intense thriller with Hold the Dark, which is a bloody and violent tale prominently set in Alaska.
Below, learn more about the next Jeremy Saulnier film.
The Calgary Herald reports Saulnier starts shooting his next feature on February 27, 2017. Saulnier, whose three films have been originals up until this point, is adapting William Giraldi's novel published in 2014. Set during the start of a harsh winter, the story involves a pack of wolves taking three children from the village of Keelut and it's up to wolf expert Russell Core to investigate. After a six-year-old is killed, the child's mother, Medora, goes missing. Her husband, Vernon Slone, returns home from the Iraq War and begins a search, possibly to harm his wife. Here's the book's synopsis:
Written with "force and precision and grace" (John Wilwol, New York Times Book Review) Hold the Dark is a "taut and unforgettable journey into the heart of darkness" (Dennis Lehane). At the start of another pitiless winter, wolves have taken three children from the remote Alaskan village of Keelut, including the six-year-old son of Medora and Vernon Slone. Wolf expert Russell Core is called in to investigate these killings and discovers an unholy truth harbored by Medora before she disappears. When her husband returns home to discover his boy dead and his wife missing, he begins a maniacal pursuit that cuts a bloody swath across the frozen landscape. With the help of a local police detective, Core attempts to find Medora before her husband does, setting in motion a deadly chain of events in this "chilling, mysterious, and completely engaging novel" (Tim O'Brien) that marks the arrival of a major American writer.
The distinct setting, the heaviness of the situation, and all the death — this certainly sounds like a story the director of Blue Ruin and Green Room could tell. Hold the Dark sounds bigger in scope compared Saulnier's previous films, too, so we'll get to see what the filmmaker can accomplish with more resources.
Netflix is behind the film, which doesn't have an official cast yet. Saulnier will shoot in Alberta, Canada, for the Alaskan scenes, as well as a few days in Morroco, likely for Vernon's storyline.