'Columbus' Review: A Sweet And Subtle Drama With Shades Of 'Once' And 'Before Sunrise' [Sundance]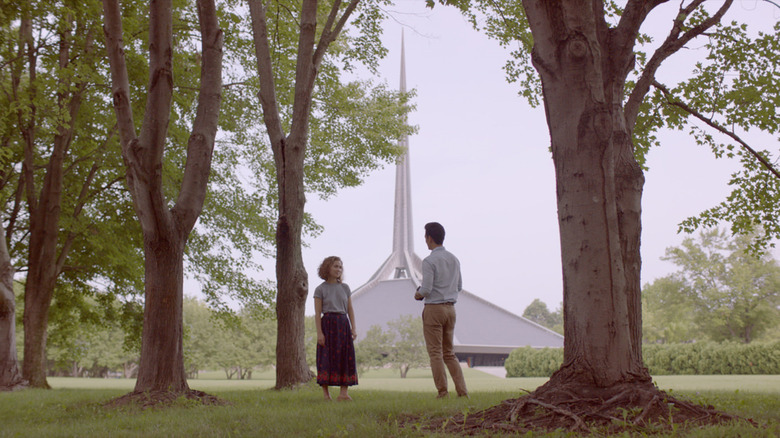 Early in Columbus, Casey (Haley Lu Richardson) defends her decision to use less spice in a dish. She was going for subtlety, she explains, all the better to let the true flavors of the ingredients shine through and leave a lingering aftertaste. That, essentially, is the mission statement for the entire movie. It might not be to everyone's tastes — it's too delicate and slow and, yes, subtle for that. But those who stick with it will find a drama worth savoring, with echoes of Once, Paterson, and the Before trilogy and fine performances from Richardson and John Cho. 
Columbus opens with perhaps its most dramatic event. An elderly professor collapses, lapsing into a coma. His crisis brings his son, Jin (Cho), to a small Midwestern town to wait for his father to either get better or die. While there, Jin meets Casey, who's stuck in a holding pattern of her own, with high school already behind her but her future uncertain. The two strike up an unexpected friendship, bonding at first over the town's unique Modernist architecture and then over their respective fears, issues, and dreams.
Writer and director Kogonada is a first-time feature filmmaker who is probably best known for his video essays for the Criterion Collection. He proves to have a great eye for architecture, serving up striking compositions that are (to quote one of his characters) "asymmetrical, but balanced." He's also got a good ear for the rhythm of intimate conversations between strangers. As in Richard Linklater's Before movies, the very fact that Jin and Casey barely know each other make it easier for them to open up. Casey discusses her close but complicated relationship with her recovering drug addict mother (Michelle Forbes); Jin admits his relationship with his father has never been very warm at all. All the while, Casey shows Jin around, giving him an intimate tour of the unusual architecture that makes up the town.
Columbus takes a while to get going. Halfway through the movie, I still wasn't quite sure what to make of it. In addition to the long conversations they have with each other, Casey and Jin have long conversations with other people: a co-worker (Rory Culkin) and her mother for Casey, his father's protégé (Parker Posey) for Jin. Some of those are more interesting than others, and the film is played at such a low key that it can be easy to tune out completely at times. But eventually, what emerges is a portrait of a rare and beautiful connection. Columbus crept up on me so gradually and quietly that I don't even know when I started to love it. When it was over, though, I was left with a sweet aftertaste that stayed with me for hours. Just like Casey promised./Film rating: 8.0 out of 10