'Arrested Development' Season 5 Could Be A (Partial) Prequel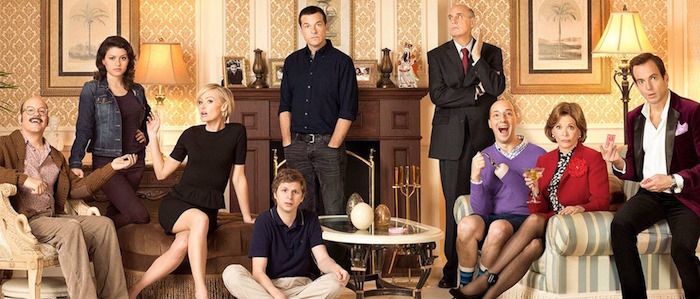 There has been talk of Arrested Development season 5 since the day after season four debuted on Netflix in 2013, which means that we've been writing stories about how another batch of episodes is on the way for about four years now. Remember when it was definitely going to happen in 2016? And then it wasn't? Earlier this month, we were told that season five was only a few weeks away from some kind of breakthrough.
And maybe they were serious this time? Because a new story about the basic structure of a potential fifth season of the beloved comedy series has hit the internet and it makes enough sense to feel true.
According to a story over at TV Line, Arrested Development season 5 will feature a number of flashbacks, with the scenes in the past comprising up to half of the season. These scenes will feature younger actors taking on the spoiled, selfish members of the Bluth clan, with the regular cast members reuniting for the storylines set in the present. Naturally, this is all in flux and could change.
And while this is a major creative shake-up, it's also a practical decision. In the years since Arrested Development was originally cancelled on Fox, the cast has scattered and found success all over the place. You can't blink without seeing Jason Bateman and Will Arnett pop up in movies and on television. Jeffrey Tambor and Tony Hale have been scooping up Emmy Awards as cast members on Transparent and Veep. Michael Cera, Alia Shawkat, Jessica Walter, Portia de Rossi, and David Cross have kept busy, too. So getting all of these people in the same room to film a new season of television is like trying to herd cats. Cast with a dozen separate responsibilities and places to be.
The divisive fourth season of Arrested Development got around these scheduling issues by isolating the actors into their own plots, using a humorously complex structure to jump through time, with punchlines to jokes arriving hours before the the set-up and disparate storylines bouncing off each other in unexpected ways. It was ambitious, but it didn't always work, revealing how much of the original show's mighty comic energy came from this entire cast sharing the screen at the same time. With this new set-up, as TV Line's source says, "More of the episodes can now include all of the original cast together, with lots of big group family scenes."
The plot of Arrested Development season 5 remains unknown, but season 4 ended with a few lingering cliffhangers that will provide ample reasons for this dysfunctional crew to reunite. If the partial prequel idea moves forward, casting will be key – if the younger versions of these characters don't have the same chemistry, what's the point?