Casting Bits: Thomas Jane Lands Unknown Role In Shane Black's 'The Predator'; Daniella Pineda Joins 'Jurassic World'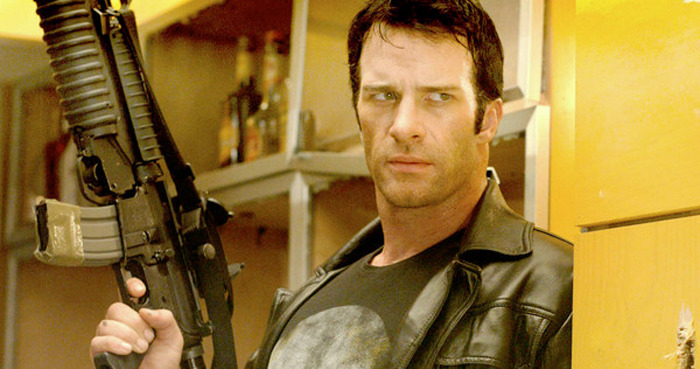 Thomas Jane (The Mist) is in final negotiations for Shane Black's The Predator. Once a deal is made, he'll join an already impressive cast that includes Boyd Holbrook (Logan), Trevante Rhodes (Moonlight), Sterling K. Brown (This Is Us), Keegan-Michael Key (Key & Peele), and Olivia Munn (The Newsroom).
Another sequel in the works, director J.A. Bayona's follow-up to Jurassic World, has added Daniella Pineda (The Detour) to the cast.
Below, learn more about the Jurassic World sequel and The Predator cast additions.
The Hollywood Reporter has learned Jane is close to signing on for The Predator, but there's no specifics on the part he might play. The film begins production in Vancouver next month, which is why there have been a few recent major additions to the cast. Black and Fred Dekker's (The Monster Squad) script follows a group of ex-marines, including Rhodes and Key, led by Holbrook. Brown's character is "a government agent who jails Holbrook's ex-Marine character, but later needs his help with the Predators." As for Munn, she's playing a scientist.
Black's movie is not a complete reboot. According to The Nice Guys director, John McTiernan's 1987 film is a part of the story:
I think it has to stand on its own two feet, but our goal is to make sure it acknowledges that, yeah, it is 30 years later in the continuity of the story. In other words, Dutch Schaefer's patrol, which was attacked and largely slaughtered, happened 30 years ago in the context of the story. It's referenced, it's part of the mythology.
We're not used to seeing Thomas Jane these days in big studio movies, but him signing up for one, and one directed by Shane Black and featuring predators, is delightful news. The Mist, Stander, Boogie Nights, and 61*, he's given some excellent performances we perhaps don't talk about enough. The actor currently stars in Syfy's The Expanse, which returns for season two next week.
Daniella Pineda is the star of TBS' The Detour and has appeared in two of Edward Burns' films, Newlyweds and The Fitzgerald Family Christmas. Variety reports she's been cast in a key role in Jurassic World 2. The exact purpose her role serves we'll have to wait to find out. She's joining Chris Pratt, Bryce Dallas Howard, Rafe Spall, Toby Jones, and Justice Smith in the sequel, which is written by Colin Trevorrow and Derek Connolly.
Here's how Bayona described the film:
I was kind of surprised when he [Trevorrow] pitched me the story because it leads the story to a place that we've never seen before and it brings some of the most important elements from the other films and makes something with them. I thought that was very interesting. It's the second chapter of a trilogy so it gets the story to a place that wants you wanting more and more.
The Jurassic World sequel is Pineda's first major studio film. She's also appeared in a few shorts and HBO's High Maintenance, but she gives a small but memorable performance in 2011's Newlyweds. She had this charisma that stood out in that film, despite how minor her role was, so it's nice to see a few years later she's been cast in a sequel to one of the biggest movies of all time.
The Predator opens in theaters February 9th, 2018, followed by Jurassic World 2 hitting theaters on June 22nd, 2018.