New 'Baby Driver' Images Show Off Edgar Wright's New Movie (And Jamie Foxx's Great Jacket)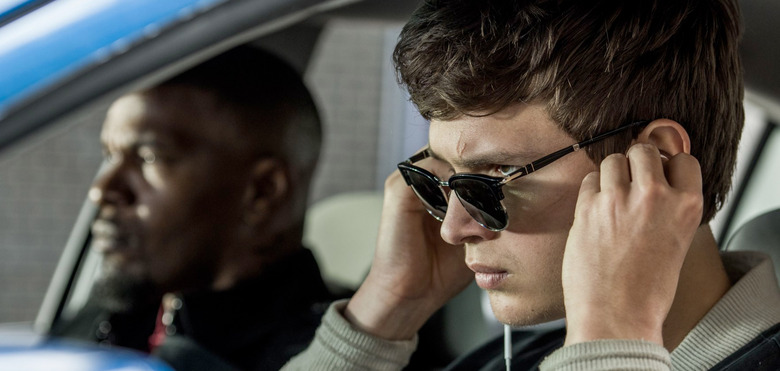 What I find most intriguing about Baby Driver is that the barebones synopsis sounds like something we've seen a hundred times before: a talented getaway driver meets a girl, decides to leave his life of crime behind, and gets sucked into a job that puts everything on the line. The key difference is that this is the latest film from Edgar Wright, a filmmaker whose name alone was enough to get this movie in the number one spot on my most anticipated movies of 2017 list. Look, making Shaun of the Dead, Hot Fuzz, The World's End, and Scott Pilgrim vs. the World ensures that you get on top of a lot of lists.
So yeah, let's check out three new photos from the film, which should help tide us over until a trailer arrives.
These three images come our way via Cut Print Film and they showcase much of the film's ensemble. Present in every image is Ansel Elgort's Baby, the above-mentioned getaway driver. The waitress in the first picture is Lily James' Deborah, Baby's girlfriend and the reason he's considering a career change. The other photos offer a look at Baby's fellow crooks, including Jamie Foxx's Bats, Jon Hamm's Buddy, and Eiza González's Darling. Not pictured: Kevin Spacey as a crime boss named Doc.
Of special note: Jamie Foxx's rad jacket.
Despite its familiar premise, Baby Driver offers a unique hook: Baby suffers from tinnitus and constantly listens to music to drown out the ringing in his ears (note the earbuds in the third picture above), which means that every car chase and action scene in the movie is choreographed to his diverse personal soundtrack. As Wright previously explained:
I always wanted to do an action movie that was powered by music. It's something that's very much a part of my previous films and I thought of this idea of how to take that a stage further by having a character who listens to music the entire time. So, you have this young getaway driver who has to soundtrack his entire existence, particularly the bank robberies and fast getaways that come afterwards.
And Wright promises that Baby's musical tastes are eclectic and will consist of dozens of familiar and not-so-familair songs:
I'll wait until nearer the time [of release]. You don't want somebody to go, "Oh, that's a good idea for this advert that comes out three months before!" It's quite a wide range of music, though. There's about 35 songs in the movie and they range from very famous to more obscure. It's supposed to reflect the character's extremely eclectic taste in music.
Baby Driver hits theaters on August 11, 2017.